Given that I have two kids, the MINI cabrio is much more practical for my family than a two-seater would be… but that doesn't mean it's totally practical. While we can – and have – packed everything we needed for an overnighter in to the boot, if we're going to be gone for more than one night, this just isn't feasible, given how much my family loves their "stuff"… See? not much room in there…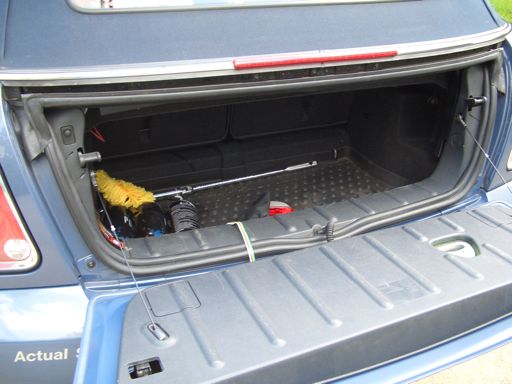 For last year's trip to MOTD, I installed a MiniDoMore hitch and used a Cargo Buddy platform and weatherproof cargo bag. This is a great setup for a couple of nights, or for longer trips when we can pack light. But this year we were going to MOTD for five days and four nights, and I wanted to take LOTS of MINI-related stuff, and car wash / detailing supplies, and beer, and…. you get the point. So I needed a more voluminous option….
I've been looking at various options for trailers for the past year. There are some very nice trailers out there… but nice trailers are expensive…. a few thousand dollars in some cases. I've also considered the "cheap" route – a Harbor Freight trailer kit, with a large car-top cargo carrier attached. Much less expensive, and reasonably functional, but not very attractive. And I'd still have to find somewhere to put it. And I'd use it very rarely – maybe once or twice per year. The ultimate trailer of my dreams would be a custom one built from a rear "clip" from a crashed MINI cabrio… but again, this would be expensive, and storing it would be an issue. Like this one, but built with a convertible so it's shorter, and with a canvas tonneau cover:
Then, several months ago, I saw a U-Haul "Sport" trailer.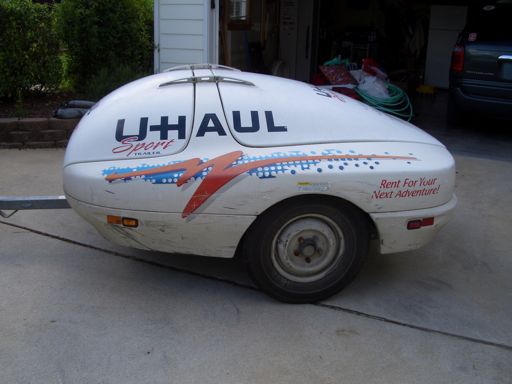 These things aren't ugly. They're DAMN ugly. Coyote Ugly, even. But they're built to be pulled by any kind of car, and are reasonably aerodynamic, and can haul a lot. And rental costs $20 per day… so I could rent one for 30 years of MOTDs before I paid for a nice trailer… I figured I'd give it a try this year.
These trailers can be hard to find… it appears that there is ONE in my entire city… had to pick it up and drop it off at the main U-Haul location. They don't make these trailers anymore… so they're going to become more rare as they wear out or get destroyed.
The first thing I noticed about this trailer when I actually picked it up is that it is HUGE. Well, at least BIG. Including the tongue, it's as long as the MINI! But it also holds up to 45cuft of gear… about 3x as much as the nice sports car trailers and the car top carriers.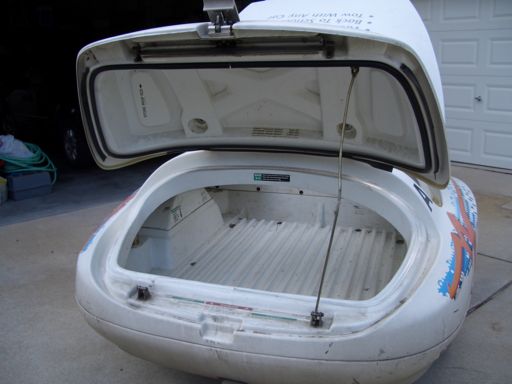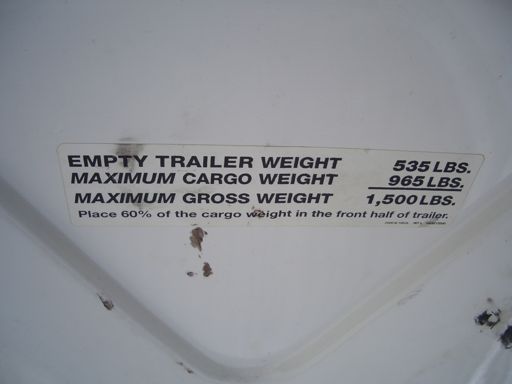 But it tows EFFORTLESSLY…. the MCS accelerates and handles just like there's nothing back there… I didn't notice any extra noise, either (of course, my one-ball helps with that). Braking distance is a little longer, but not bad. It's about the same width as the MINI. You just have to be aware of it when you change lanes, since you're twice as long as usual… U-Haul has a video of this thing being pulled by a race car at 140mph and it's stable at that speed. I went a significant fraction of that speed and it was quiet and stable…
Note that I put my beer-can tips back on, because my big stainless tips interfere with the hitch and chains. Swapped them back when I got to Fontana.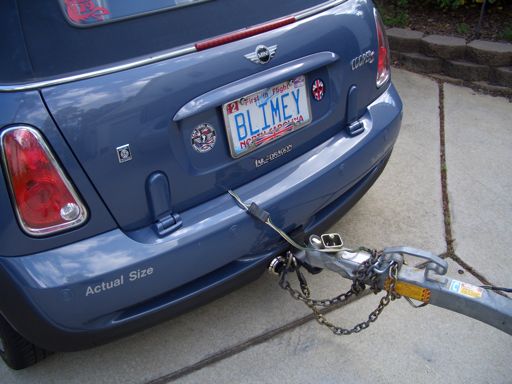 We loaded everything we planned to take in it. And it was less than half full. So we took a bunch MORE stuff… I threw in my whole toolbox, my wash bucket, a huge bag of microfiber towels, my detailing caddy, all our pillows…. it was just crazy. Here's all the stuff we brought back from Fontana…
And I saved the boot for my computer and cameras and a few other things.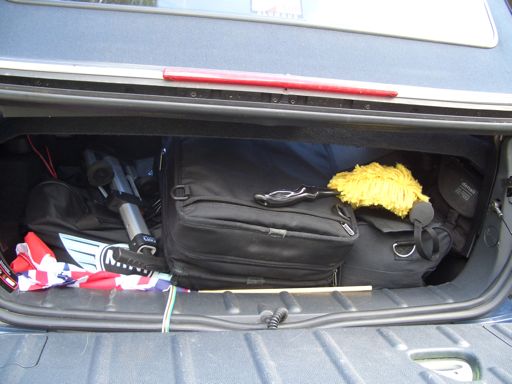 So… how much can a MINI cabrio haul with one of these things? This much…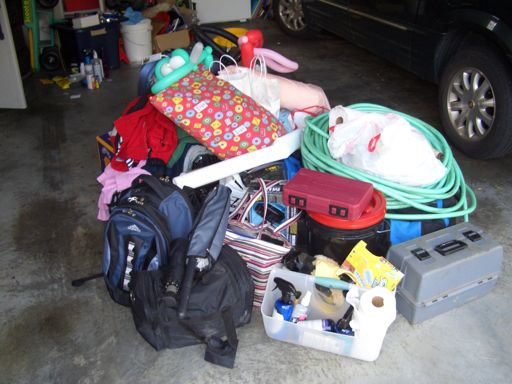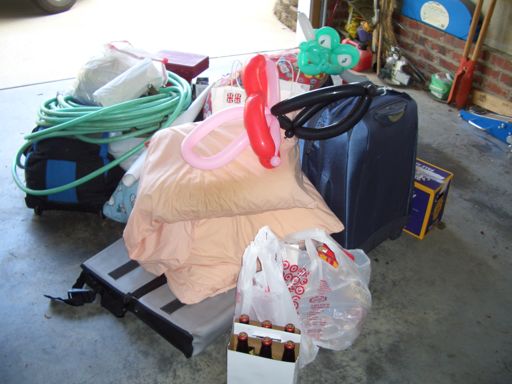 IIRC, that is:
four pillows
one large suitcase
one huge rolling duffel
two backpacks
a 5-gallon bucket with carwash gear
a large garden hose
a detailing caddy
convertible wind blocker
case of beer
two balloon hats
small beach ball
portable vacuum
computer in case
two camera cases
two rolls of paper towels
toolbox
ratchet set
3 car dusters
jackets
umbrellas
large banner
poster in case
two bags of microfiber towels
tote bag full of books
several "goodie" / "swag" bags
two duffels full of misc MINI gear
Pair of remote-controlled MINIs
Maple syrup
Apple butter
And a bunch of other stuff…
That's a bunch of crap. And it all came home from MOTD… and we could have packed more in there if we had needed to.
P.S. – I found an interesting, similarly designed trailer for sale – still not cheap. But larger capacity than many of the motorcycle trailers being sold as "sports car" trailers…