OK… I'm gonna start catching up on posts… really, I am…
First… what I just finished… well, almost finished… still gotta wetsand and polish after the paint cures a bit more…
Dale at Voltage Products is making a fantastic big bonnet scoop. I like the lines of it much better than the other big scoops on the market – M7 and Uber. It really flows into the lines of the bonnet, no hard transitions like with the other scoops.
Here it is in "raw" primed form.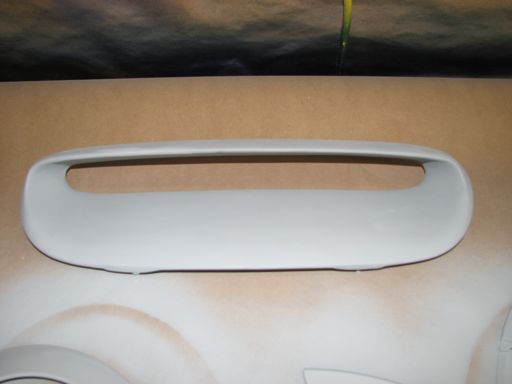 I have lots of spray equipment and airbrushes in my sculpture studio – so I decided to use this as an excuse to work on my "professional" auto paint skillz…
I got a pint of Dupont ChromaBase paint in Cool Blue – geesh, it's unreal how much pearl is in this stuff – tons – in three different colors. It's actually not "metallic" at all… just has about a pound of pearl powder in it… I'm not 100% sure on the match yet… gotta let if cure and get it sanded and polished… the problem with the Cool Blue is that the match may look perfect in some light, and look awful in other light, because of how radical the pearl effect is. If the color doesn't turn out right, I'll try a different brand/mix of paint and shoot it again… I'm getting the hang of prepping and painting now, after prepping and painting the scoop FIVE times (so far) to get it right… geesh…
While I was at it, I got a new set of headlight rings, sanded them, primed them, and painted them, too. Here's the results (again, not yet wetsanded and polished… so they'll look better next weekend…)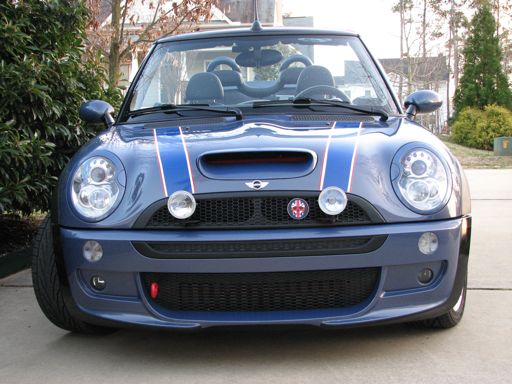 Daddy LIKE.