I've replaced all my interior lamps with high-intensity white LEDs. So when you open Blimey's door at night, it's like opening the refrigerator door at 3AM… BRIGHT! And a nice, cool, white light.
One of the glaring – no, that's not right…
One of the dim-witted deficiencies of the MINI cabrio is the lack of ANY form of lighting in the backseat area of the car. I stuck a Sylvania Dot-It 3-LED press-on lamp to the ceiling strut to make a rear "dome" light – and it works well once you're actually in the back seat to use it. But it's a little treacherous climbing in back there when you can't see where you're putting your feet…
I think I've copied about 400 things from ImagoX… he installed blue cold cathodes to light his cabrio rear footwells. While blue interior lights don't do it for me, white sure as heck does. I purchased two white 4.7″ 12-LED strips from oznium.com a few months back after having success with the longer versions in the ImagoX "light that boot" mod.
I tapped into the wires for the passenger side footwell light (brown/black=ground; brown/yellow=hot) and ran 18 gauge 2 conductor wire under the carpet edge floor trim to beside the seat, then under the seat rail and to the Oznium strip (gold=ground; silver=hot). Strip is zip tied with 3 ties to the rear round steel cross-brace under the seat, with the LEDs pointing straight down.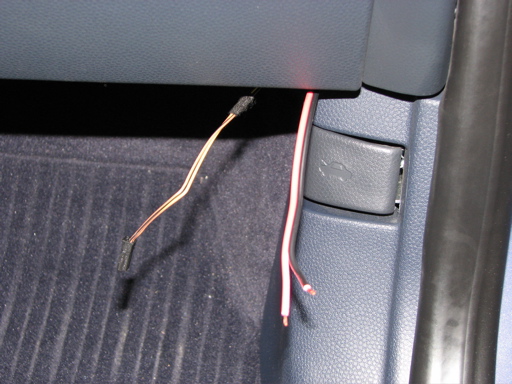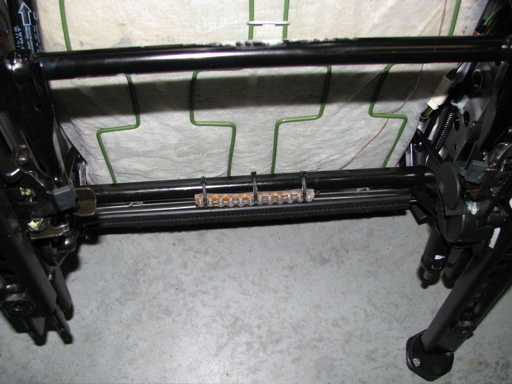 Another run of 18 gauge 2 conductor wire runs from here, under the inboard passenger seat rail, through the console, under the inboard drivers seat rail, and to a second strip under the drivers seat.
Works great – color matches the white high-flux flank LEDs I have installed for the front footwells and puddle lights. The strips fade on and off just like the front footwells. And I like the brightness of the 12 LED strips – just right for my taste. I think the 9″ 24 LED strips would be too much.