I was at MOTD6 this past week. It was a blast. I drove the Dragon several more times. Including at night, which is when I really enjoy it… though I enjoy other roads there even more, like NC28 ("Hellbender"). But the Dragon is definitely very technically challenging, and frankly can be pretty treacherous, as my friends Matt and Kara can attest. But I was looking for a different kind of challenge….
For the last couple of years, I had noticed a strange "path" at about milepost 4 on the Dragon… in the middle of a hairpin curve called "Parson's Curve". The path had a gate across it, and a Do Not Enter sign. Last year, there was always road equipment or a truck parked there, blocking the path. I was always curious what that thing was, and where it went.
Then, earlier this year, while reading up on roads in the Great Smoky Mountains NP, I came across an announcement:
Great Smoky Mountains National Park announced that Parson Branch Road will reopen at noon on Friday, September 21. The 8-mile, one-way, gravel byway, which leads out of Cades Cove to U.S. 129 in Blount County, Tenn., has been closed since it was severely damaged by a flood in May 2003.

Park Superintendent Dale Ditmanson said that, "We are pleased to be able to reopen this scenic byway in time for the busy fall color season. Parson Branch Road provides a low-speed, 'up-close-and-personal experience' to motorists as it passes through some of the Park's most beautiful old and second-growth forest."

"When we planned and carried out the repairs," Ditmanson continued, "we engineered in some changes to the drainage channels and stream crossings that would make it less susceptible to being washed out again, but I think visitors will find that its primitive character and its sense of solitude are still unimpaired."
Hmmmm…… that sounds like something I gotta do sometime… I found it on the map.
Fast forward to this past weekend. Several days of great driving at MOTD6. I had decided I would go on an early morning drive on Saturday, so my family could go to Joyce Kilmer forest for a hike later in the morning. I woke up early, and realized that I would be ready in time to join Aaron Granger's 6:30AM sunrise drive through the Smokies. I had previously signed up for that drive, but had since decided to do my own thing, because I led a drive along the same route on Thursday. I figured I'd tag along with them anyway across the Dragon, then maybe cut over to the Cherohala Skyway. I joined their group and we pulled out about 6:40AM. As we were crossing the Dragon, I saw the exit of Parson's Branch Road… and immediately knew what I had to do…
We had a great drive across the Dragon and the Foothills Parkway with about 28 cars. There were some great views there to be captured.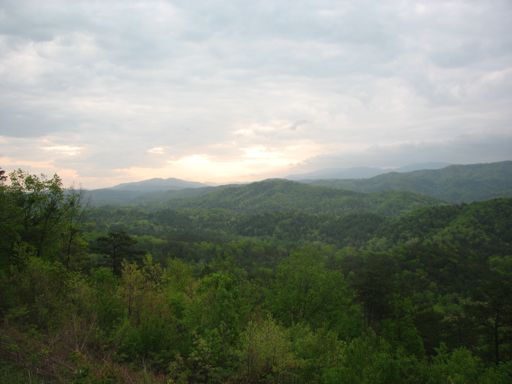 When we got to Little River Road back in the Smokies, I broke off from the group and turned right toward Cades Cove.
Cades Cove Road itself is a fantastic drive – it's an 11 mile, one-way roughly paved loop road that rolls through the valley and offers some spectacular scenery and wildlife. I saw about a dozen wild turkeys, including a huge tom. Halfway around the loop, you arrive at the Cades Cove Visitor Center. I got there right at 9AM when they were about to open for the day. Rangers were directing traffic. I told them that I was going to go straight through and out Parson's Branch. The ranger looked at me, looked at my car, and said, "You look pretty low-slung… but I THINK you'll be OK… Have Fun!". Hmmmm…
You drive down a two-lane "modern" gravel road for a couple of miles, and then you see this sign:
OK Paul. If you do this, you are COMMITTED. I mean, it's a one-way, 8 foot wide road. I take a deep breath, and continue. Quickly I was surrounded by old growth forest, and the way ahead looks like this: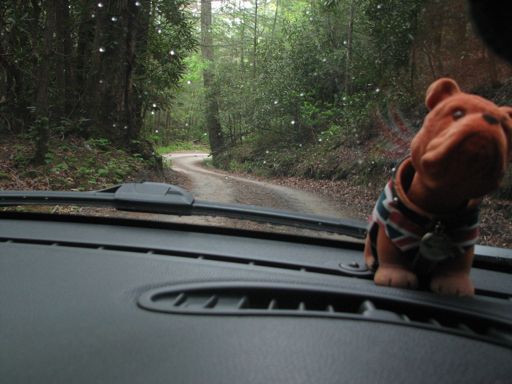 Nice. OK, well, it seems PRETTY smooth… there are a few ruts and potholes to dodge… some of the holes are big enough to bottom the car, but seems like I can get around them… no problem….
Then I see this…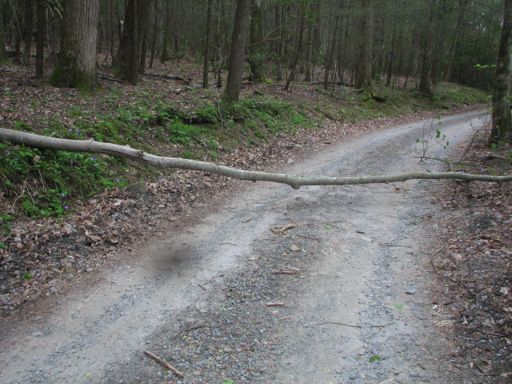 That's about an 8″ diameter tree. And it has apparently broken off overnight and fallen right across the road. And I'm apparently the FIRST car through today… and I didn't bring my chainsaw… so I get out and take a look back…
OK… no turning back now… after a few minutes of heaving, I manage to drag the corpse of a tree off the road. I saddle up and continue.
A few hundred yards later, I arrive at this: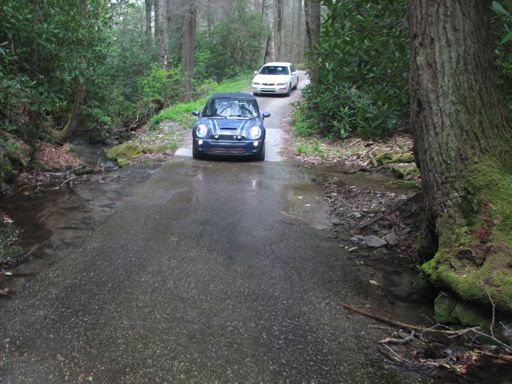 The other car caught up to me while I was surveying the stream crossing…. this was the only car I was to see for the rest of the adventure. I explained to her that I had to move a tree off the road – she was grateful and offered to take my picture with the car… I figured I had held her up long enough, so I got in and drove across the creek…
As I continued, turns out there were something like 18 of these creek crossings. Here's a typical one.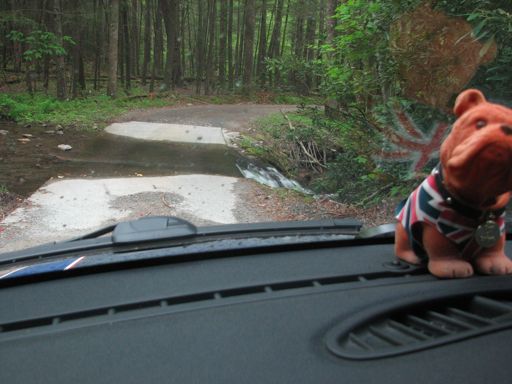 Note that the left ("uphill") side is just a nice little creek… but the right ("downhill") side is actually a small waterfall. With no guardrail. And no curb. And no sign telling you to be careful. And no sign with a MINI with a slash through it. Just a little waterfall, where you can drop a wheel and be stuck for hours. Or maybe even days. And be eaten by bears. Or werewolves.
Well, eventually I got pretty comfortable at this, and picked up speed, and eventually shot a little video while driving one-handed… OK, stupid. But fun. In retrospect, I WISH I had setup my CruiseCam mount and recorded the whole drive… but I didn't have that much foresight… shortly after turning off this video (luckily) I was zooming along, crested a little rise, and found a hinky little curve with a DEEP stream crossing at the bottom. The MINI started to skid out, so I had to take my foot off the brake and hit the crossing MUCH faster than I would have wanted… huge splash as I plow through several inches of water… I'm thinking "no hydrolock… no hydrolock… no hydrolock…"… and I got lucky. Or the big dude upstairs was watching out for me. Or is waiting to teach me some bigger lesson later… I know on the video it sounds like I'm DESTROYING the MINI… but at the time the car seemed to be taking the beating very well… but if there was ever a time I wish I didn't have Sport Suspension… or 17" wheels… this was it. But I'm pretty darn glad I was still at stock ride height…
After about 40 minutes of the MOST FUN I have ever had in my MINI, I saw this…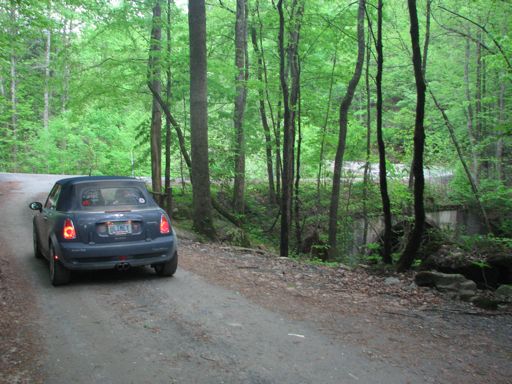 Wow… THAT's what the Dragon looks like from this angle!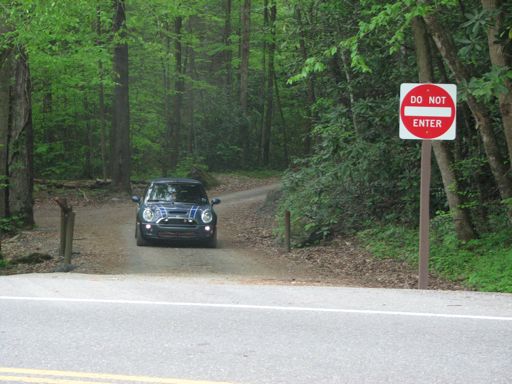 Made it! I got some strange looks from sport bike riders as they zoomed by… and Blimey, who was show-car clean yesterday, looks like this now: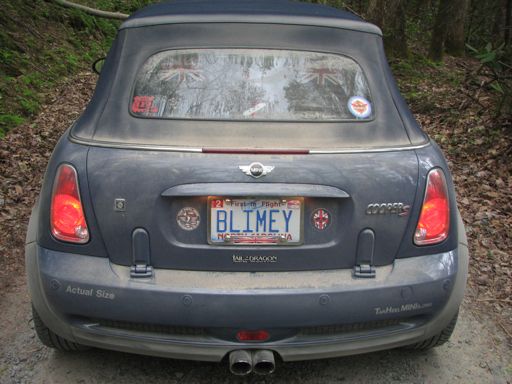 Oh, well… it'll wash off.
I do NOT recommend this drive for the feint of heart. Or for cars that have been lowered. Or for garage queens. But for cars that long to be driven HARD… for cars that want to be reincarnated as a rallycross car… this is a must-do drive…