My birthday is on Sunday. I got myself an early present today. I took the day off and went to Virginia International Raceway (VIR). I was a VIRgin before today. Never knew what I was missing… OMG, this is gonna be addictive.
If you're not familiar, VIR is a motorsports park very close to the North Carolina border – about an hour and a half from my house. They have several track configurations – the longest "full" track being 3.27 miles, with some rolling elevation changes and lots of corners. Many great drivers have raced here – including Carrol Shelby. It's awesome. There's a cool "Hot Lap" walkthrough of the "right" way to drive it (definitely NOT the way I drive it yet) on this page.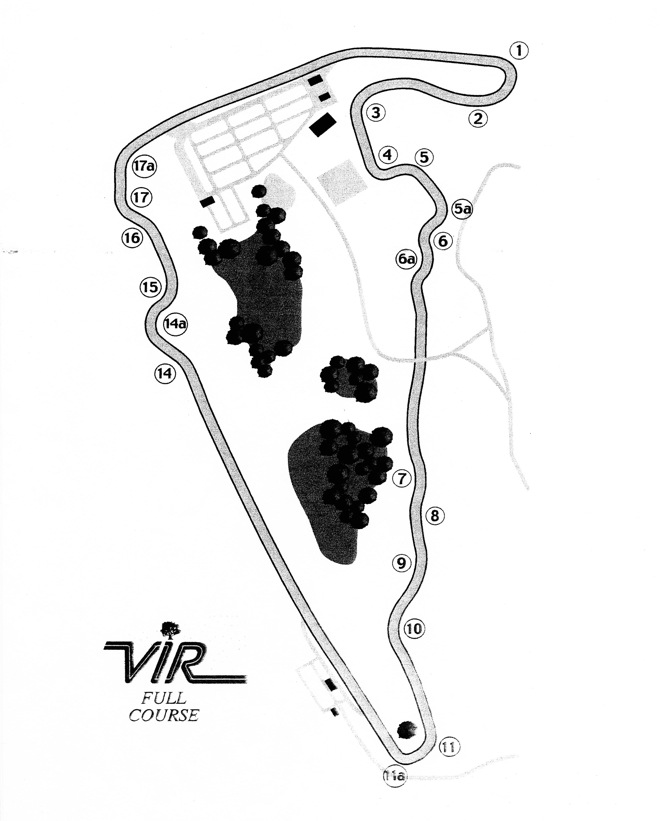 VIR does an annual "Holiday Laps" event for charity – you drive pace car-led laps, no passing, about 30-35 cars per group, for 20 minute sessions (about 6 laps). For a $25 donation to charity for each session. Shhh. Don't tell anybody or the whole world will show up next year…
Six intrepid THMMC MINIs showed up on a cold, cloudy day today…
Max Headroom
KillerKar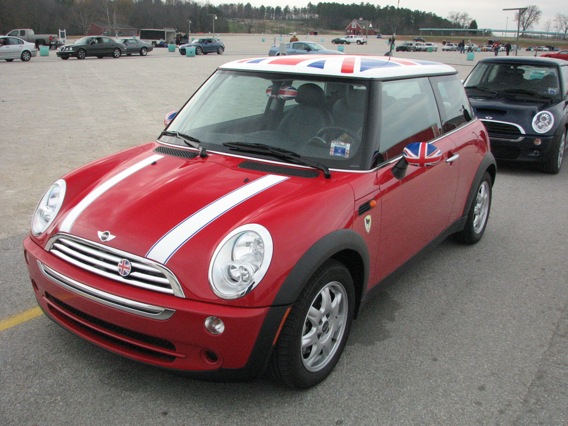 BlimeyCabrio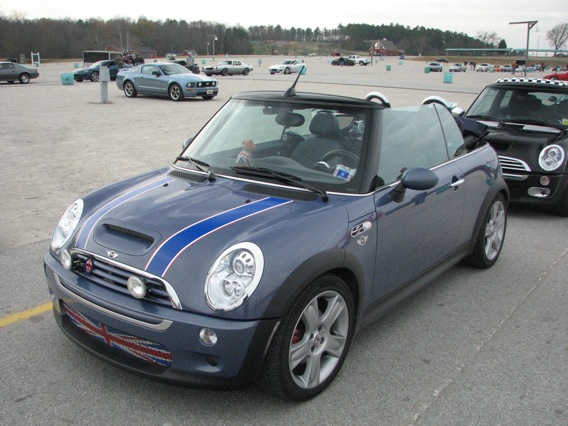 minimark
With his badazz new centercaps

kiwigould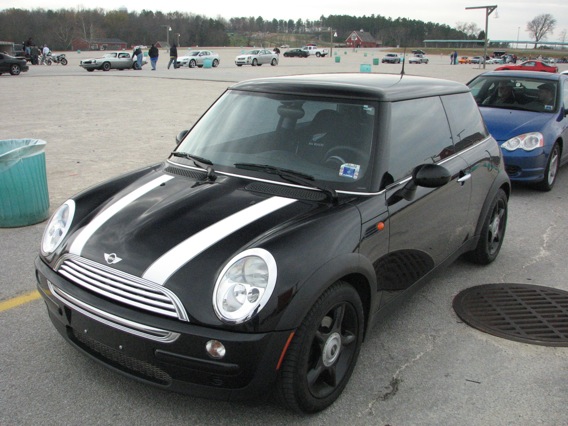 and one new recruit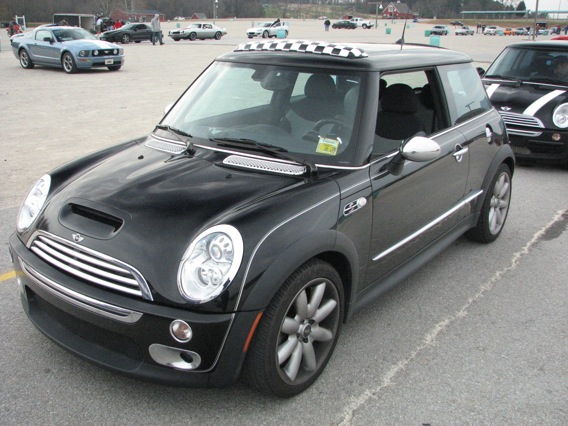 It's always a good sign when the pace car looks like this…
There were lots of other cars there, too…
Several Corvettes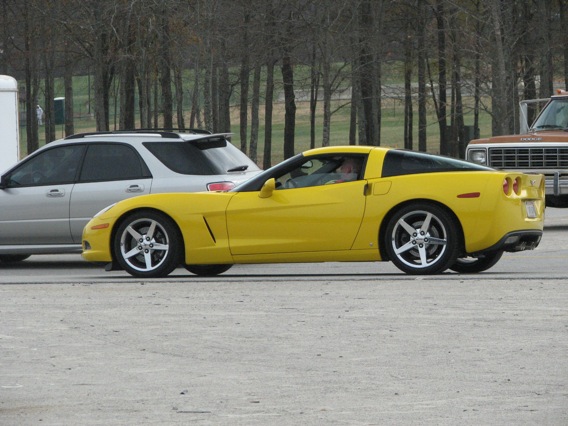 The Carolina Mustang Club…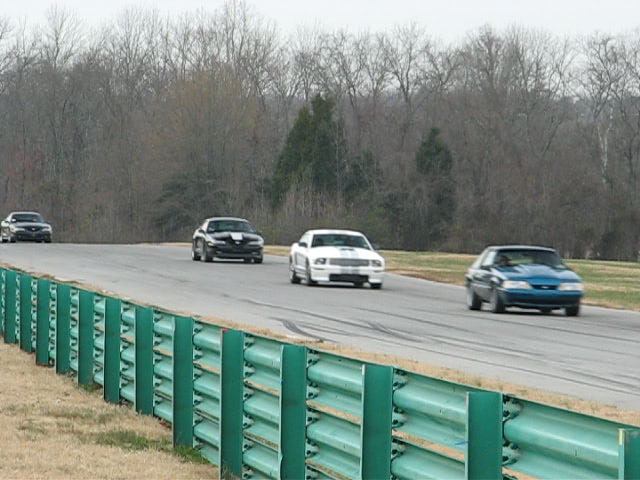 Shelby Daytona Cobra coupe (thanks pbraun!)

The General Lee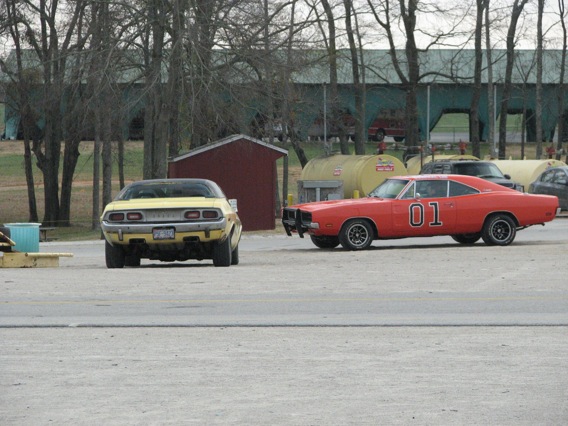 Pickup trucks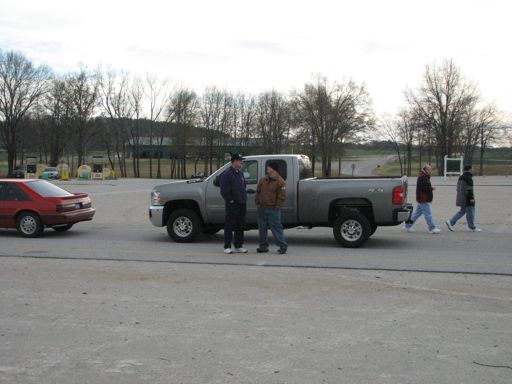 A Lotus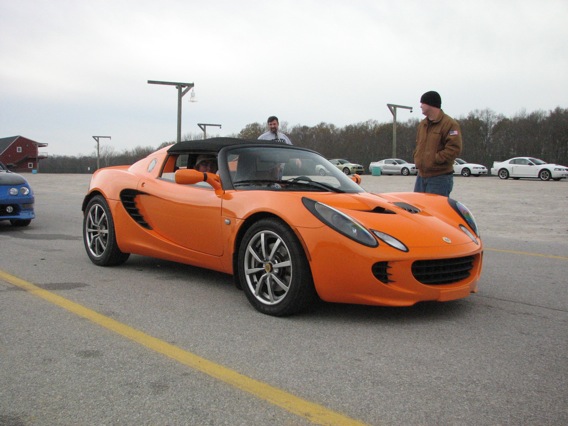 A Viper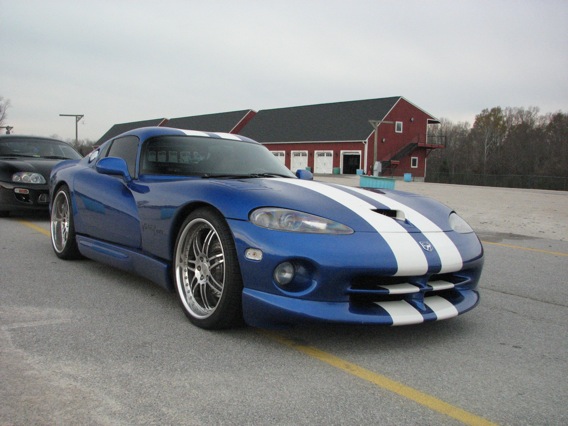 I was proud of my 215/45R17's…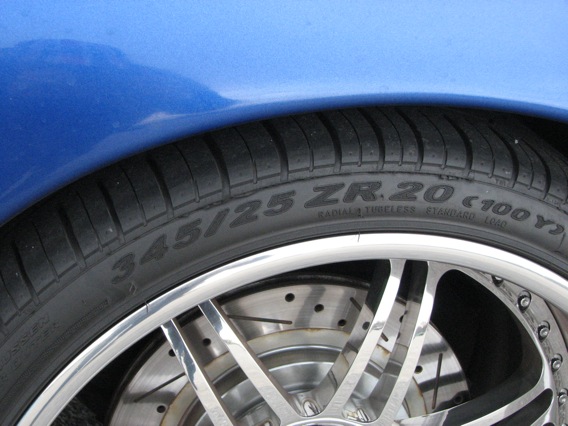 Several new GTO's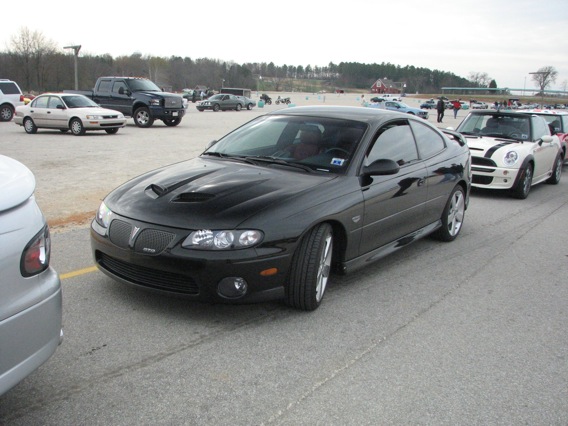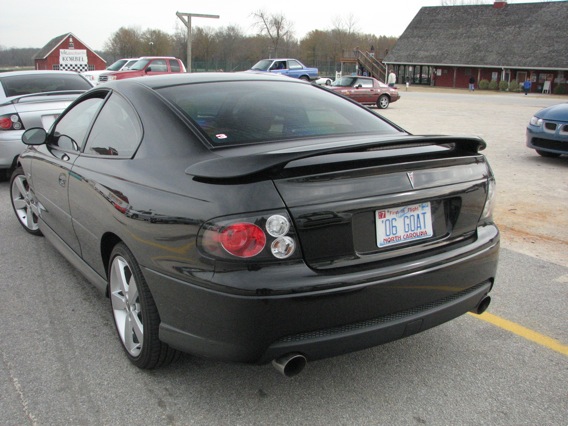 Max & Killer ran the first session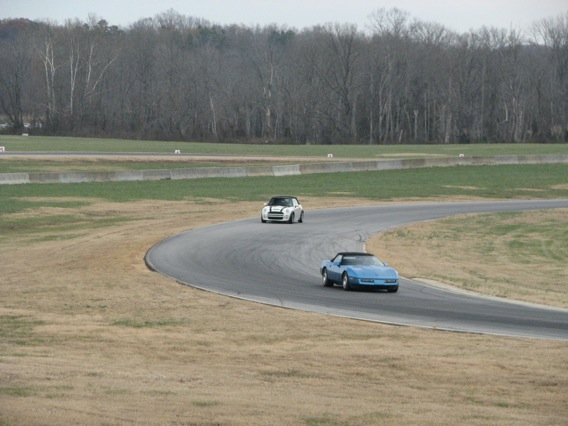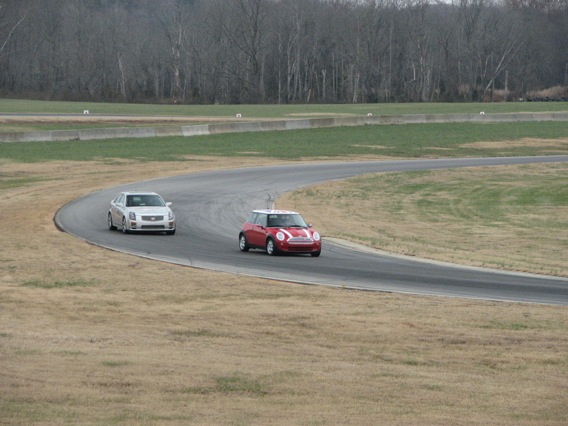 Here's some video of my first session – I got to chase the GTOs. They could leave me on the straights, but I could catch them in the corners…
(If for some odd reason you're obsessed with watching me chase Goats, the other parts of that session are here and here.)
Then we all joined up and ran session 2 as a group… here's the beginning of that session and here's the end.
Maybe next year I'll move Boddington the Bulldog out of the way… but it's kinda fun watching him turn his head to always watch the swinging medallion. Well, it's fun for the first 30 seconds. Then you just wish he was somewhere else.
I hit 104 on the back stretch one lap… would have gone faster… but there was some slower traffic in front of me… and I averaged 14mpg. Who says motorsports isn't green?
In session 3, I handed a young man in an RX8 his butt… I was ALL OVER him… of course, he thought an "apex" was a divorced gorilla, and that he got bonus points for only using the middle 10′ of the track. So I could of been all over him in my momma's Buick. If you want to see a driving style that can be improved, here's his cornering…. but he had iridescent green wheels and a loud exhaust – and we all know it's more important to look good than to be good – at least that's my approach… 🙂
If you want to read up on what could be improved with his driving style, my friend MidnightDave wrote an excellent post for track driving novices.
Of course, at the same time, a guy in a huge heavy 4000lb Audi sedan was ALL OVER minimark (including through the corners) who was ALL OVER me… of course, the Audi was an RS6, which is a beast of a family sedan… and the driver was no slouch, either (former VIR member and Touring Class racer)…
Most of us ran three sessions – they were starting to spin things down around 4:30, and the hot Porsches were starting to show up for the REAL racing…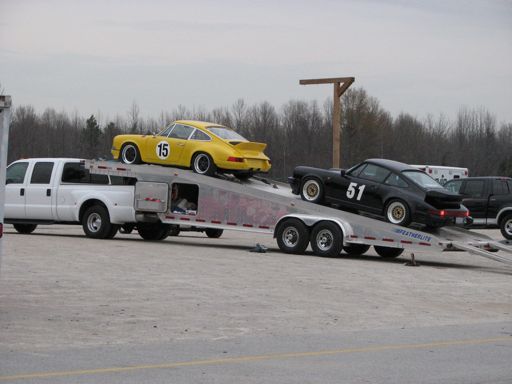 But that's an EXPENSIVE hobby…
What a great day. Can't wait for next time… I now understand why someone would buy a membership at VIR…. Hmmm….
UPDATE:
In retrospect, I wasn't very kind or instructive to the young man in the RX8. My apologies – I've removed a term for "novice" that I shouldn't have used (that I myself have been called many times). From the looks of him, I have about 20 years and 500,000 miles more driving experience than the the young man, not to mention 20 more years of watching NASCAR races on TV… and I personally didn't drive any better or differently than him about a year ago. My mother could certainly NOT take him in her Buick – though I MIGHT be able to, but I hope the young man will take some HPDE courses so in a year or two he can hand me MY butt… 🙂 It wasn't a race – but I just hate to see anyone not get the most out of a very good car on a very good track. I'm fond of RX8's – wanted one in a bad way when they were introduced. I personally am very bling-heavy, and I'm sure he wouldn't want a clown car with British flags all over it, so I hope he enjoys his wheels. I hope he had a good time and comes out again! I don't raise my kids to talk down to people in that way, and my parents didn't raise me to. I'm sorry if I hurt any feelings.