The PDX (Portland) MINI Club took a weekend trip to one of my favorite places last fall – Orcas Island. Orcas is the largest of the San Juan Islands, in the northern end of Puget Sound. There are no bridges to the San Juans… so most people arrive there by ferry (private boat and small plane are your other options).
As much as I'd like to take this same trip, it's a bit far to drive (about 3.000 miles each way). So I started thinking about what we could do closer to home that would have a similar "cool" factor. Well, North Carolina has its own gem of an island – Ocracoke. This former stomping ground of Blackbeard the Pirate has a lovely little village and 16 miles of the most beautiful undeveloped beaches in the United States. I polled our local club and lots of people were interested in a weekend run to Ocracoke – so we scheduled one! It's pretty much impossible to get lodging for large groups during the season – so we picked one of the last "pre-season" weekends.

Eighteen MINIs (and one S2000) met in Zebulon, NC on the morning of April 12th and headed east for an hour. One of our club members organized a great "family style" lunch of pasta and quesadillas for about 45 people at CPW's Restaurant in Greenville, NC. Excellent food, highly recommended.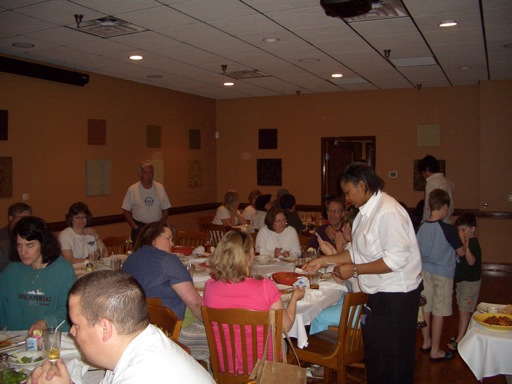 We met three other MINIs there – and after lunch were ready to continue east.
We drove another two hours to Swan Quarter, NC – the location of a ferry terminal with service to Ocracoke Island. This ferry only runs twice daily during the off season (which this is) and only holds about 40 cars – so reservations are strongly recommended. We all had reservations – but were the first ones there for the ferry anyway – we arrived almost an hour before the ferry was scheduled to depart.
Here we are lined up and ready to board.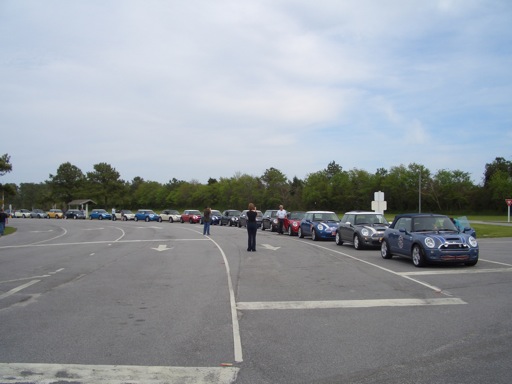 One of my co-pilots decided to ham it up for the camera…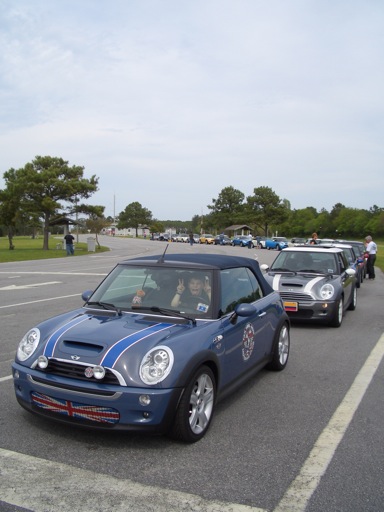 .
.
.
.
.
.
.
.
.
.
.
.
.
.
.
.
.
.
Just before 4:00PM, we were loaded on the ferry and began the 2 hour 40 minute trip to Ocracoke!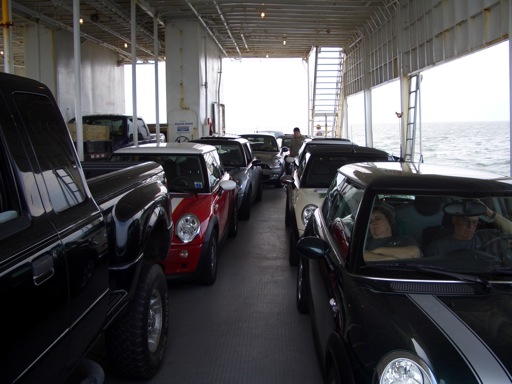 .
.
.
.
.
.
.
.
.
.
.
.
.
.
.
.
.
.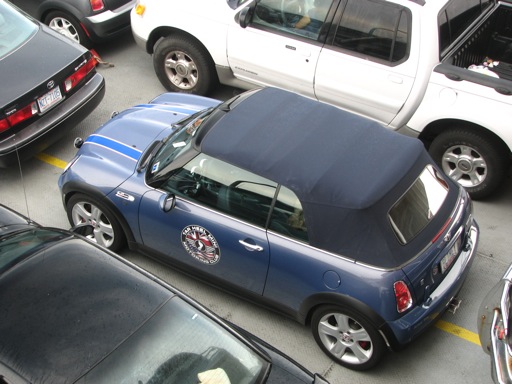 The weather for the drive down to Swan Quarter had been partly cloudy and breezy… but we knew that there were thunderstorms moving across the state from the west. Just as we were departing Swan Quarter on the ferry, we were watching the television on board and saw that there were TORNADO WARNINGS in Greenville… where we had lunch 3 hours earlier… hmmm…
As we continued across Pamlico Sound, severe weather continued to "chase" us toward the east. The sky to the west darkened, and the winds whipped up considerably. So did the waves. By the time we were about halfway across to Ocracoke, the ferry was rolling quite a bit, the wind was so strong it was hard to walk on deck, and the waves were occasionally BREAKING ACROSS THE BOW OF THE FERRY!!!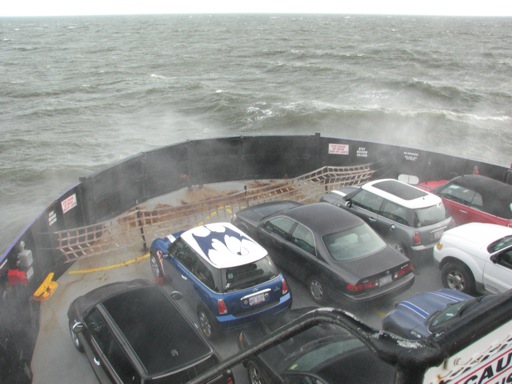 All the cars on the front of the ferry got pretty wet with salt water. This was happening often enough that I got several pictures of it happening… I've ridden quite a few ferries, and this was the roughest conditions I've ever encountered… I was joking with some of the other guys that we should have T-shirts made up that say "I Survived Blimey's Boat Ride!"…
Here's a short video clip where you can see how strong the winds were, and get an idea of how choppy it was. The waves weren't quite so bad by the time I shot this – not breaking over the bow…
We finally made it to the calm waters of Silver Lake – the harbor at Ocrocoke.
We met another couple there who had brought their MINI over the day before – and we all headed over to the Ocracoke Lighthouse for a photo opp.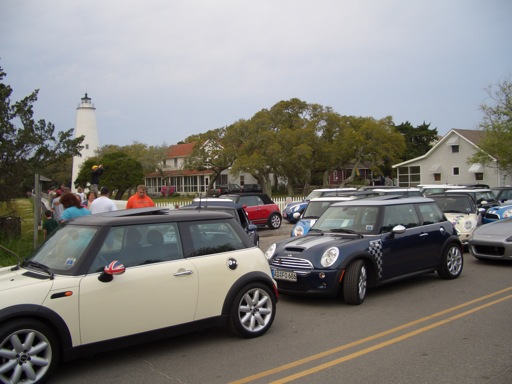 We completely filled the tiny parking area and spilled out onto the roadway… luckily not much traffic there this time of year!
Then we checked into the Pony Island Motel, and went over to Howard's Pub for dinner.
Afterward, individual activities varied, from going to bed early, to hanging out at the bar, to getting stuck on the beach, to getting pelted with rocks by hoodlums, to partying at the hotel until the police came…. 🙂
Sunday morning everyone had breakfast, then pulled out at 9AM to head to the other end of the island to line up for the 10AM ferry. There were 4 cars, a truck with a trailer, and a HUGE motorhome in line ahead of us. We added 22 MINIS to the line and waited for the ferry that holds approximately 30 cars… and hoped everyone could make it on board.
The ferrymen really packed us on this small ferry…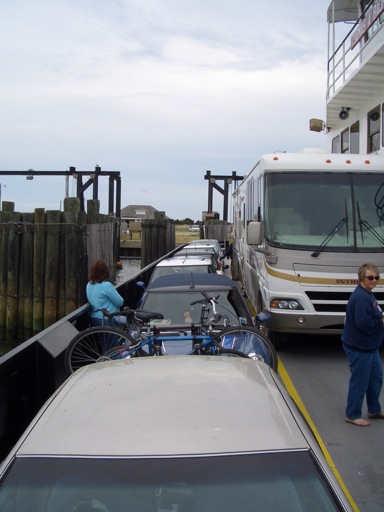 .
.
.
.
.
.
.
.
.
.
.
.
.
.
.
.
.
.
.
.
.
.
.
.
.
.
.
.
.
.
.
.
.
.
.
We just barely all made it on – with a couple more cars on after the last of our group!
This ferry ride was nice, short, and VERY smooth. A welcomed change from yesterday's ferry… though the seagulls were making bombing runs… here's my wife Roberta talking with John Rummage's daughter, moments before a seagull struck…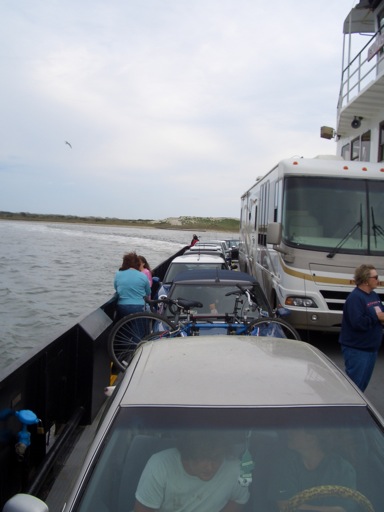 .
.
.
.
.
.
.
.
.
.
.
.
.
.
.
.
.
.
After we arrived at Hatteras, we drove to the Cape Hatteras Lighthouse – the tallest lighthouse in the country, and a well recognized NC landmark. We found some great parking for another photo opp.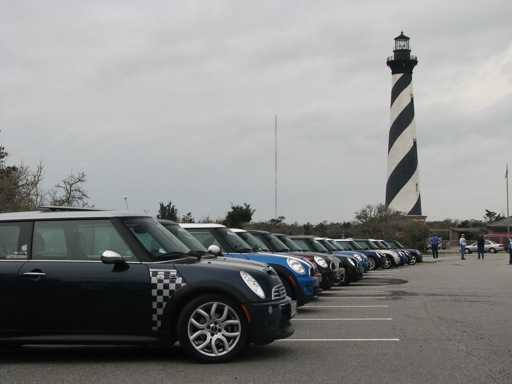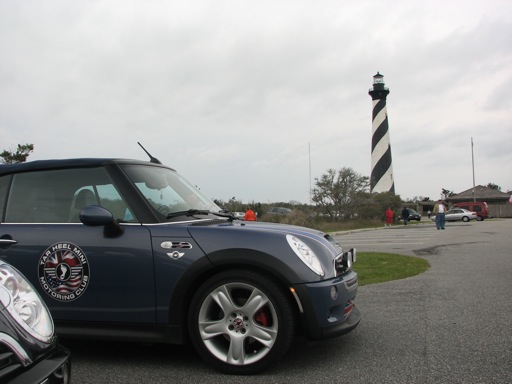 Then we headed north up the Outer Banks to the Bodie Island Lighthouse for our final set of photos…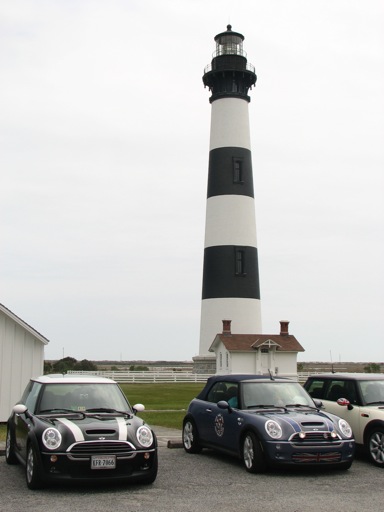 .
.
.
.
.
.
.
.
.
.
.
.
.
.
.
.
.
.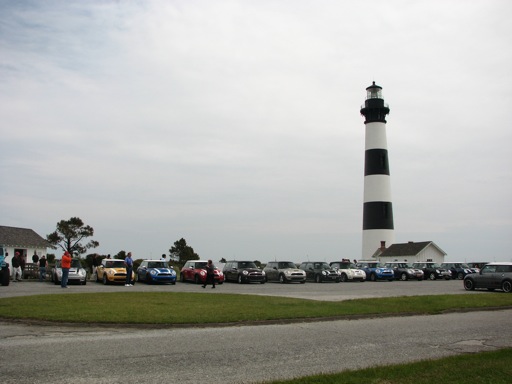 We had a great lunch at Big Al's Soda Fountain in Manteo, then everyone went their own way, with some returning to visit the beach in Nag's Head before heading home. We made it back home before 6PM… 468 miles after leaving on Saturday morning. Several folks from the Charlotte area probably logged 300 miles more than that!
Thanks to everyone who joined us this weekend – my family had a great time! We hope to do a three-day version of this trip (with two nights in Ocracoke) in the fall of 2009. Stay tuned!