I'm still loving my Redline Goods custom shift and brake boots. They really helped bring the Union Jack color scheme inside the car.
I recently replaced my OEM armrest with the MINI aftermarket armrest – it sits higher and is a better anatomical fit for me, and works better, and I think looks better, and liberates the rear cupholder. But it came with a cheap black vinyl pad on top, that didn't match my seats or anything else in my car. I just HAD to do something about that…
So I contacted Maciek at Redline Goods – but they had never seen one of these armrests before. He agreed to make me a cover for it – but I had to send the pad from my armrest TO POLAND to have it fitted… so I did. A few weeks later, I had this:
Much better than the black pad! This is an easy swap – there are six screws that hold the pad on the lid, and the cover just wraps around and sticks to the pad backer with double sided tape. Redline Goods has a template for this now – so you can just order the cover for the MINI Euro Armrest – no shipping to Poland necessary!
Of course, I couldn't stop there… so I also had him make me some covers for the door armrests. Blimey's Union Jackification is nearly complete!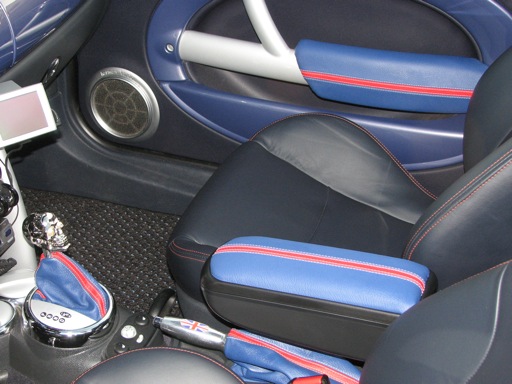 Looks GREAT to me… really livens up the interior, and makes everything look like a package. Ties the stripes, grille and external Union Jacks to the interior. And the door armrests make the entry to the car look like it should, IMHO.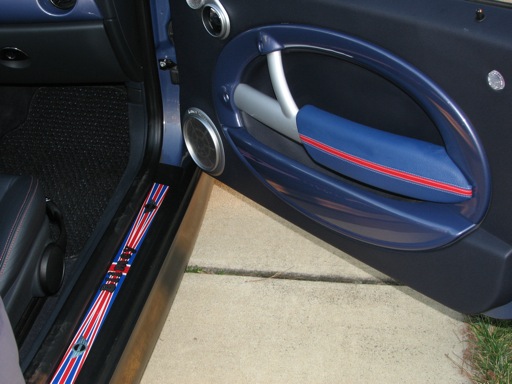 It's taken almost a year and a half – but Blimey's UJ theme is finally just about "there"… now time to do more with the engine bay…