What a GREAT weekend! About 40 MINIs and their pilots / co-pilots made it to Fontana for the 1st to-be-annual MINIs Slay the Sleeping Dragon Nov 2-4. This started out as a few folks saying "Let's go to the Dragon this fall" and picking a weekend that worked. Next thing you know, it's an "event" and lots of folks are coming and we're planning drives and activities and dinners… A HUGE Blimey-sized shout-out to Jason / 1QukMINI for making this happen – this thing was ALL him (or at least 92% him) and I think it was FABULOUS.
It was GREAT meeting lots of new friends. Can't wait to motor and visit with you some more.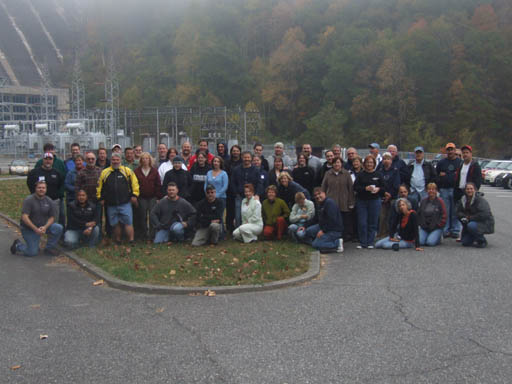 (Photo by Twister's daughter!)
It was especially awesome spending lotsa time with my now-good buddies MINI_Bee (Jack) and Xiek (Jason). You guys rock.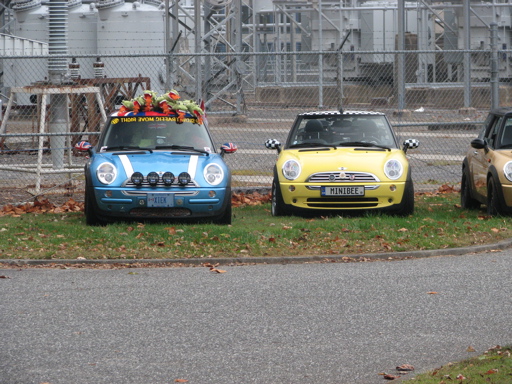 Jack made a great highlight video of the weekend. I especially like the segment on "Blimey's Run" (I have no idea why I like that part). The first part of that segment has MINI_Bee following me along the Cherohala Skyway – there are 18 other MINIs behind him… it was a fantastic 144 mile round trip from Fontana, across the Dragon, TN-72, TN-360 and the Skyway, with lunch at the fantastic Sweetwater BBQ in Robbinsville. Someone referred to it as an "Indy race through the mountains" but I can assure you, no racing activity occurred. That would be illegal. But it wasn't a sightseeing run, either.
(Photo by SgtPepper)
Great spending more time with all my THMMC brothers and sisters, too. As always, it was a BLAST. (How could it not be with MidnightDave around?)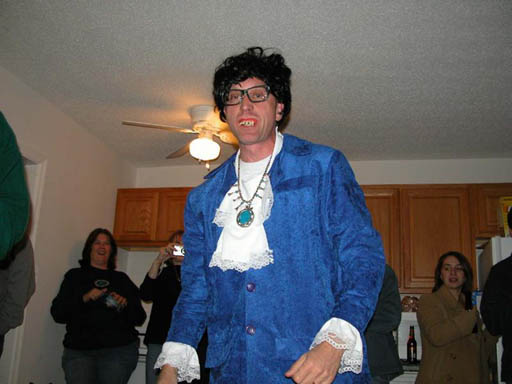 (Photo by RideInMyMomsMini)
Dave did a good job of providing a "G-Rated" version of my weekend, fit for consumption by the public authorities and my insurance agent:
Paul is a wimp and doesn't know how to drive. He barely had his car above 11 miles an hour the whole weekend. He brakes to a stop before curves. He cried constantly because he had to frequently pull off and let everybody else pass anytime he was in front of anybody in any vehicle, including a 60 ft tractor trailer full of mattresses. He kept the top up the whole time, and the heater blasting. He does not even own a Union Jack do rag, so it certainly was never on his head. Oh, and nobody likes him, so he didn't have any fun the entire weekend. He wouldn't even lead his own ride, he just stayed at the lodge playing cribbage with some old guy with no teeth. Jason had nothing good to say about him either. Don't even think he chugged maple syrup at the dinner–he was a no show.
Here's the THMMC gang (plus MINI_Bee) at the Chilhowee Lake lot, at the north end of the Dragon, on late Friday afternoon: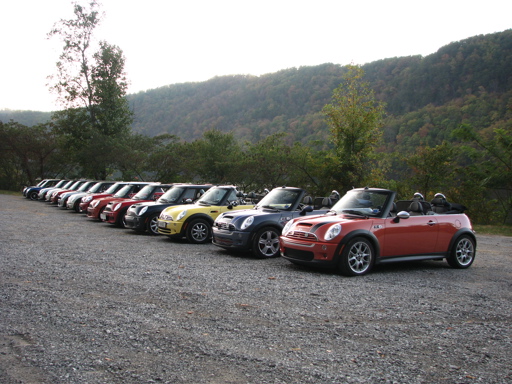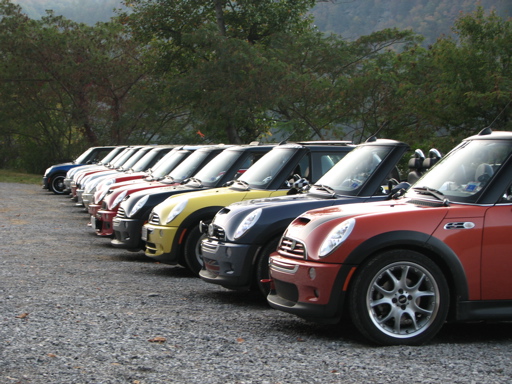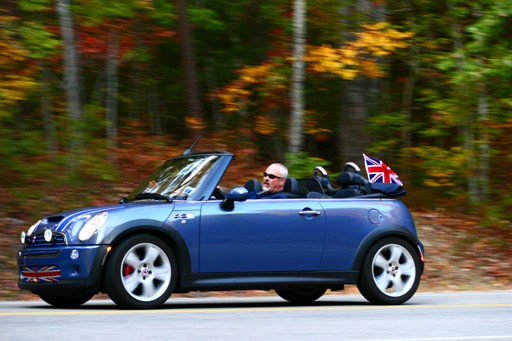 We did a smaller, but awesome, midnight run of the Dragon on Friday night. Here's the photo of our scaled-down "bat signal"…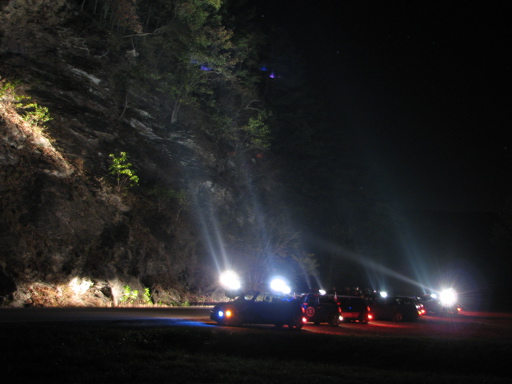 Thanks to my bunkmate and newly-realized fraternity brother Matt / MDK for putting up with me and my sounds and smells…
Thanks to Rebecca for MAPLE SYRUP – I thought I knew what that was before, but I had NO IDEA…
Thanks to Dave for helping salvage our disc golf round. Thanks to Rich for spelunking for my disc…
I made it about 90 minutes down the road with MDK on Sunday morning on the way home. Then we stopped for gas… and Blimey started pulling back toward the mountains… I ended up taking the LONNNNGGGG way home (added about 3 hours) and drove back across the parkway at Devil's Courthouse, took lots of pics, drove Bat Cave / Old Fort Road, and finally got my fill of twisties – at least for THIS weekend…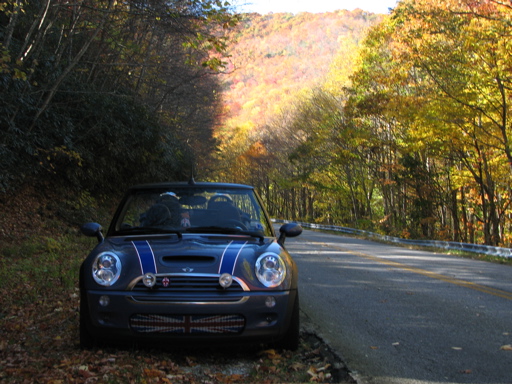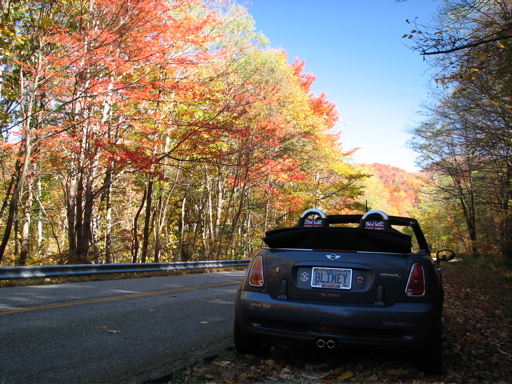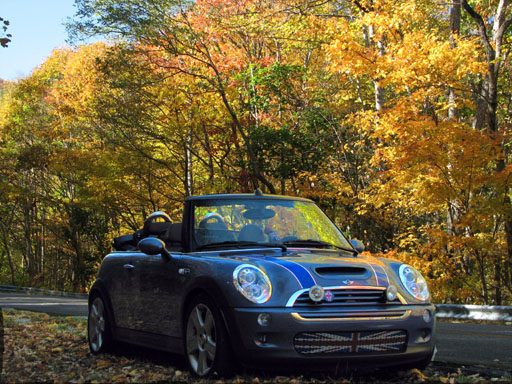 Can't wait til next year. MOTD is a blast, but it's almost overwhelming… this was much more intimate. I think I'll be doing BOTH from now on…