So several folks on NAM scared the beejezus out of us newbies about Midnight on the Dragon. They basically implied – or said outright – that if you don't have driving / rally lights, you're going to be Dragon bait.
Not wanting to be Dragon bait, I researched what my options were. Factory driving lights are obscenely expensive. So I opted to shamelessly copy my buddy ImagoX and install Hella 2500 lights with Outmotoring.com brackets. ImagoX wrote up a fantastic how-to on NAM for this combo, and I like the look, features and PRICE of this setup – about $130 total including shipping and stainless steel screws & bolts from Lowes.
Matt's instructions made this a pretty straightforward 2 hour install. I just had to splice about a foot of extra wire into the battery power lead – everything else is per Matt's guide. I'm currently using the 3-way switch that comes with the kit, it snaps sideways into the knock-out on the euro parcel shelf. Later I'm going to rewire the angel eyes into my parking lamps and the driving lamps into my high beams. But for now this is good enough for the Dragon!
Here are the results – including Blimey's UJ grille and custom mag stripes!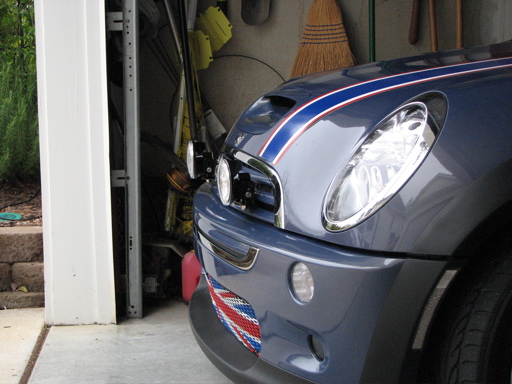 These things make some LIGHT too! I'm waiting on some 65watt high intensity bulbs from Daniel Stern for my high beams that supposedly put out twice the lumens as the stock bulbs. With this combo, I should be able to sufficiently light up the guy in front of me on the Dragon!
UPDATE: I rewired these tonight. Now the angel eyes come on with the parking lights. The switch allows me to turn off the driving lights, arm them so they come on with the high beams, or override so they're on no matter what. Details of how I did this are on ImagoX's original thread on NAM – see post #25.
UPDATE to the update: I received and installed my 65watt Osram high-beam bulbs from Daniel Stern – these things are BRIGHT. With these, plus the Hellas, plus the Xenons, it's like Blimey has aircraft landing lights when the high beams are blazing… su-weet.
UPDATE 5/19/2007: My Hellas got some WATER in them (not sure how it soaked in there, but it did) so I took them off, dried them out, and put them back together with copious amounts of silicone sealant to keep the water out. While I had them apart, I cut and ground the "extra" mounting protrusions off the back of the light housings. It was pretty soft cast aluminum so it was pretty quick and easy. Cut them down with my air cutoff tool, then broke off some small pieces with pliers, then ground with my die grinder and a coarse rotary file, then sanded them smooth with my little "power file" belt sander. Painted the modified area with black Testors acrylic model paint I had lying around – a good color and gloss match. Here are the results. They look MUCH better this way I think… Still plan to make some better brackets – I bought some steel but haven't had time yet…