Installed my new Kumho Ecsta SPT 215/45ZR17 tires today. I like 'em. First impressions:
The tread profile is VERY different than my Dunlop 9000 DSSTs – the SPT is much more "square" – so even though the tire is only 1cm wider (and it does indeed measure only 1cm wider – less than 1/2 inch) the actual tread is more like 3/4″ wider (about 2cm) – this makes the tires look noticeably wider on the car.
The tread design looks quite aggressive on the car – I like it.
The tires are considerably taller than my stock 205/45R17s – even accounting for treadwear. They noticeably fill more of the wheel well – with less visible gap – almost looks like you've lowered a little bit. I like it!
Significantly smoother over the bumps than my runflats – but you can still feel the road.
I haven't worn them in enough yet to judge grip. My old worn out 9000s with their soft tread gripped like GLUE. I'm hoping the Kumhos are at least as good when they get a little wear on them.
Think I might be able to sell these on NAM?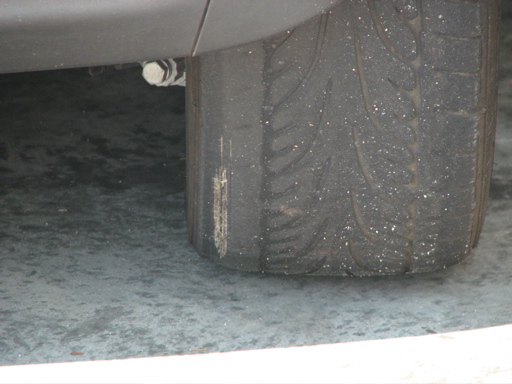 Eh, probably not. Oh well, 18,000 miles of lunatic driving isn't too bad…
Here's something you never really want to be able to do – count how may belts your tire has…
YIKES!!! A couple of weeks ago you could just see the first polyester ply… this much wear happened ON THE REAR in two weeks… through all poly plies, and through BOTH steel belts and into the inner fabric plies… OMG… I drove to Starbucks and back on this tire this AM… amazing I made it home…
Though I know how it got that way… I pulled maximum G's around some corners a few times this past week, showing off for guests…
Anyway, here's the comparison – the SPT looks more aggressive on the car – and fills the wheel well more. Stands out a little further – almost like you have 5-10mm spacers on.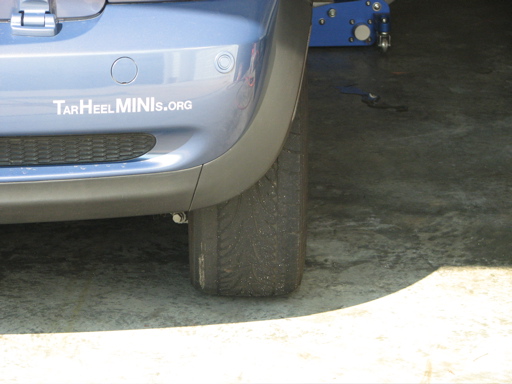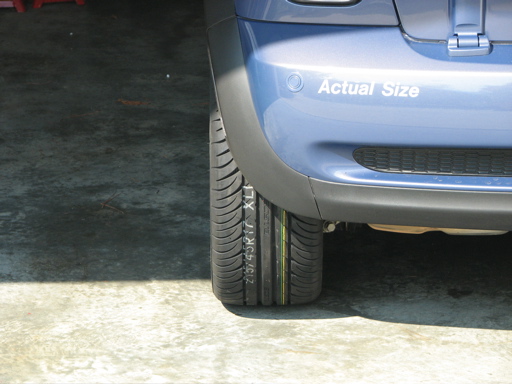 The SPT is noticeably taller – which results in less wheel gap when installed. Again, a pseudo-lowered look.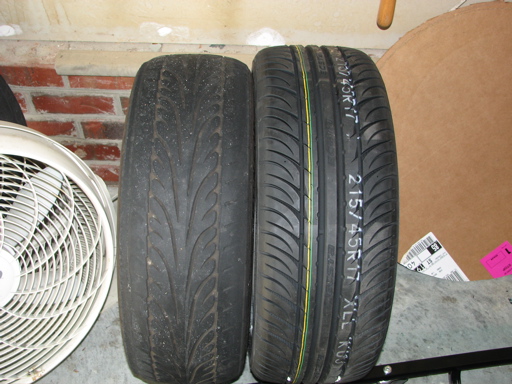 You can see the difference in overall width (almost 1/2″) and in apparent tread width here. The camera angle is straight on – so the relative measurements from the center at 24″ are accurate.