My other project for this weekend, while I had the wheels off, was to install my Texas Speedwerks M14-M12 stud conversion. I really like how studs ease wheel changes. I don't plan to use non-stock wheels anytime soon, so I don't need the other benefits of studs (fit wheels and aftermarket brake hats with smaller bolt holes, longer length to support spacers for aftermarket wheels with different offsets).
So I did a test fit without LocTite on one wheel. The Muteki nuts don't seem to contact the entire seat of the stock 5 spoke bullet wheels – they seem like they ALMOST go through the holes (though I'm sure this is just me being paranoid).
But the biggest issues I have is the length – the studs protrude almost an inch beyond the nuts – and well beyond the face of the wheel. Here's the length compared with the stock lugnuts.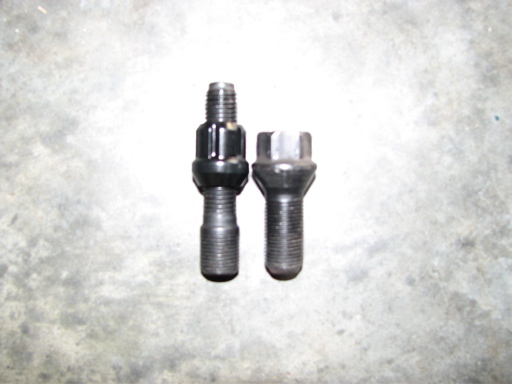 So I'm checking to see if I can get M14 studs that are both fatter and shorter. Otherwise I guess I'm sticking with the lug bolts (argh).
Update: Jeff at Texas Speedwerks says the M14 studs are the same length, but the nuts are much larger and longer. So I'll still have some stud exposed, but maybe it won't look as "odd" to me… I ordered one stud and nut to test it. Stay tuned…
Update to the update: I got the M14 test stud and nut – it's still a bit longer than I need / want, but it doesn't look as "freaky" to me – because it's fatter and the nut is larger/longer, it doesn't *look* as long and "spikey"… and the larger nuts seem to completely fill the 60 degree taper like they should… so I shipped back the M12s and Jeff is cross-shipping replacement M14s to me. He says he'll be recommending the M14s for stock wheels from now on. He's been great to work with through this – very good customer service. I'll post pics when I get them installed next week.