Getting ready to take things up a notch…

Ordered the MaxJax a couple of months ago, they were on backorder and had to wait for a new shipment to come across the pond. Arrived today like this: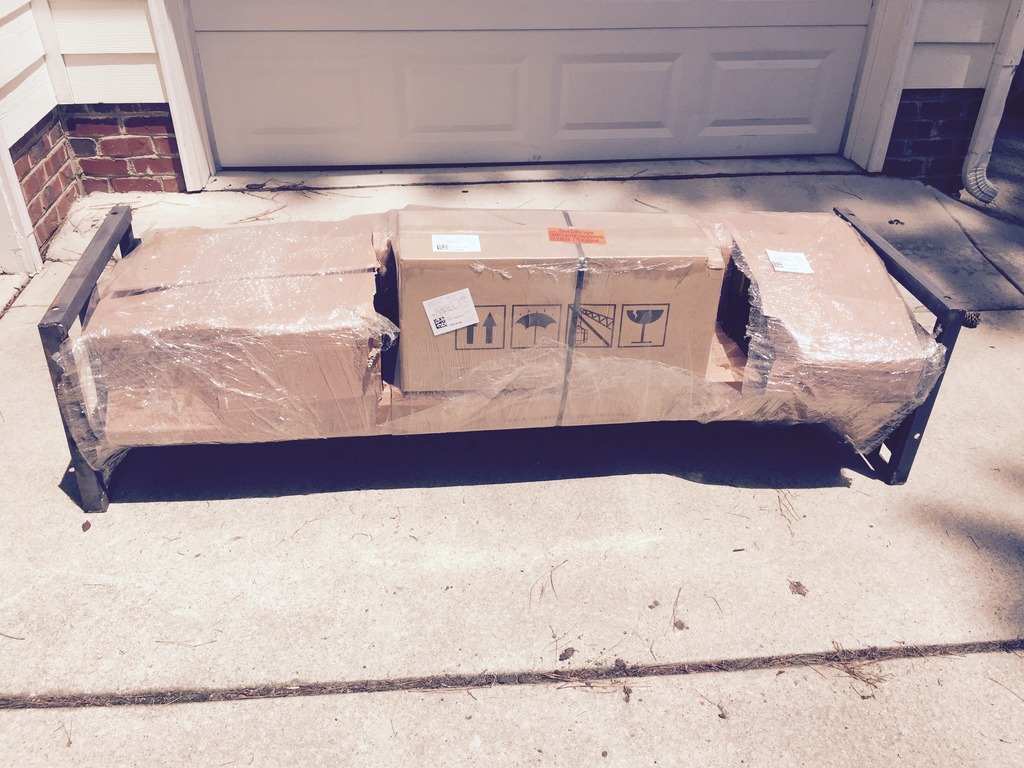 I ordered from Scott Matthews at Big Boys Garage Toys. He had a great price and great service and communications. I ordered online on a Sunday. He called me within 10 minutes (on Sunday) to let me know the unit was on backorder, gave me an ETA, and made sure that was OK. The shipment arrived when he said it would, it shipped immediately from the distributor, Scott notified me that it had shipped and provided a tracking number. The unit made it cross country in only three days via Con-Way freight. Delivered to my driveway in perfect condition. Couldn't ask for more.
Really brilliant packaging, actually.
15 seconds to cut off the plastic and one plastic strap, and move one box, and you have this:

One minute to cut three steel straps, move the arms, a couple of boxes, a few other large parts and some cardboard, and you have this: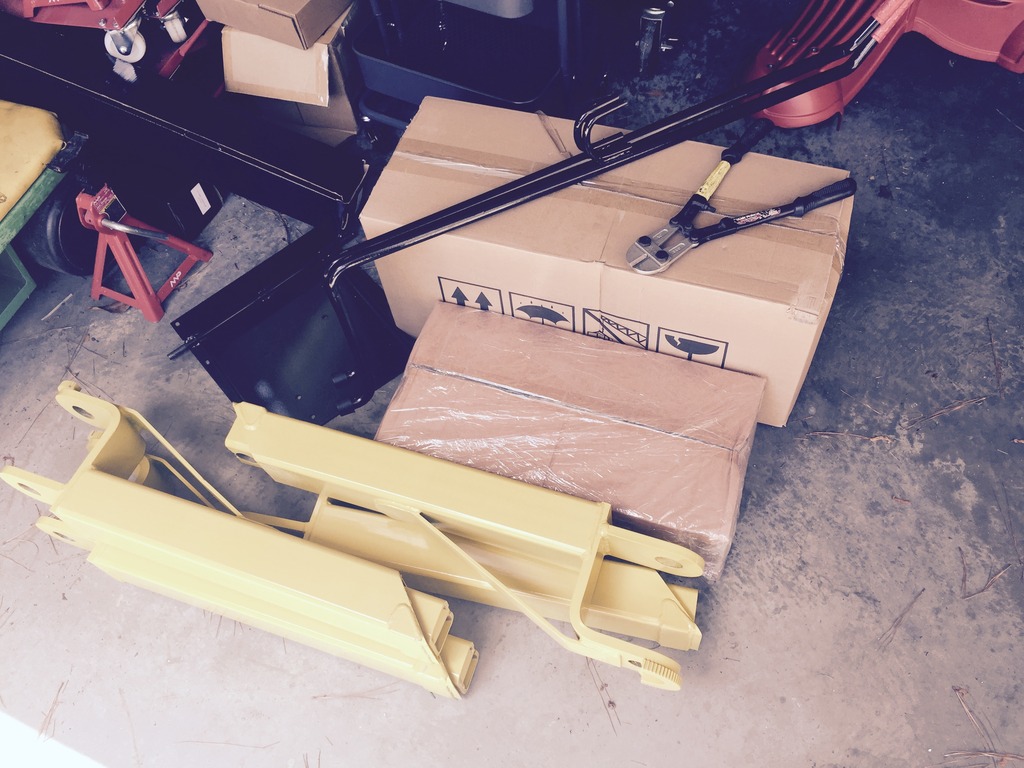 A few minutes to put on 4 wheels, remove 10 bolts connecting the end frames, stand things up and roll into the garage. Done with unpacking. Total time to unpack from the shipping frame: about 10 minutes. Easy Peasy. Helps to use a floor jack to lift under the uprights a bit to remove the ends.
When you're done, this is all that's left over – these end frames, three steel straps, one plastic strap, 10 bolts, some cardboard and some plastic wrap turn the MaxJax system into a single shippable, stackable unit. Pretty smart.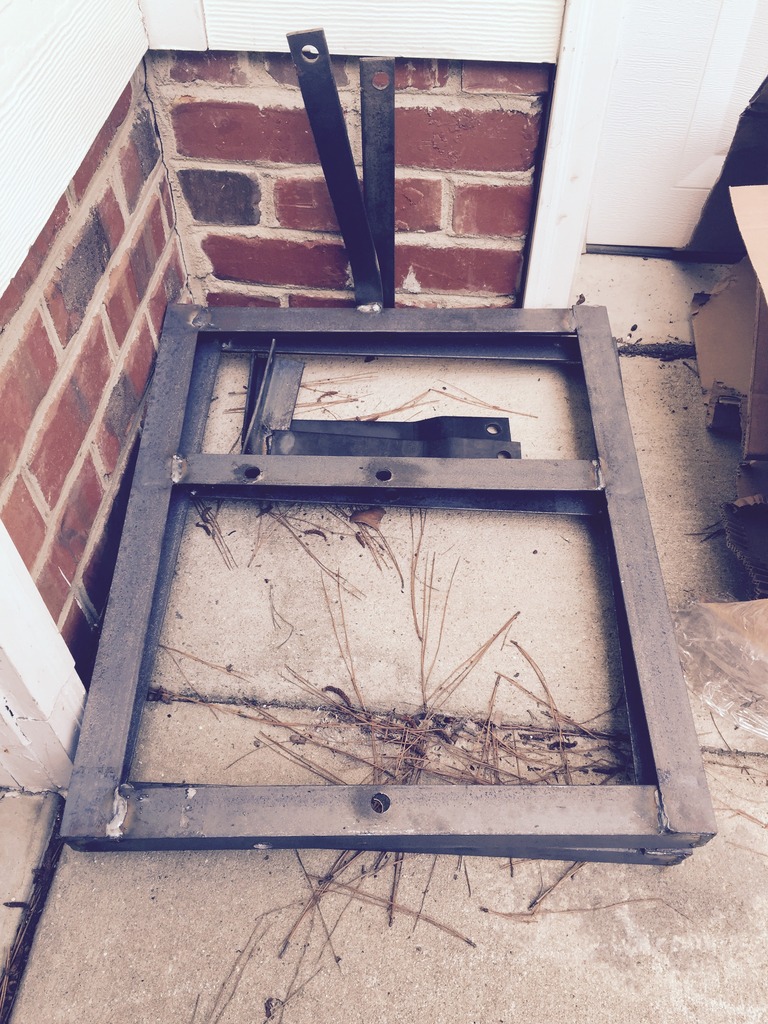 My new hammer drill won't be here until Tuesday, and I'm traveling next week, so it won't get installed until Saturday 7/18. Then I can get wrenching on Locutus again. I did enough measuring before ordering to know it would fit in the garage, but I still need to do detailed layout to decide exactly where I want to put it. I'll play around with that this weekend and get the floor marked, so I'm ready to drill.
I also need to finish stripping the GP this weekend, so I can roll it out of the garage to make room for the lift install…
***
First time I've put the Mini on the lift… it works!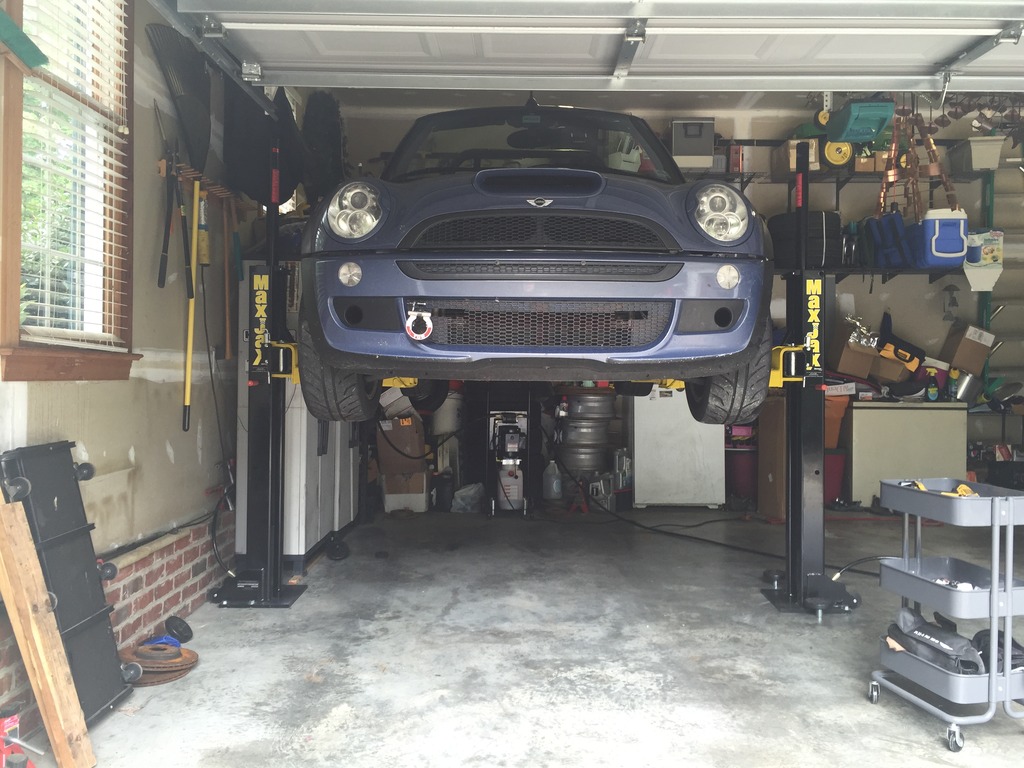 Pulling bumpers, axles, etc. is sooooo much easier at eye level.
And this is the way to drain engine and transmission oil…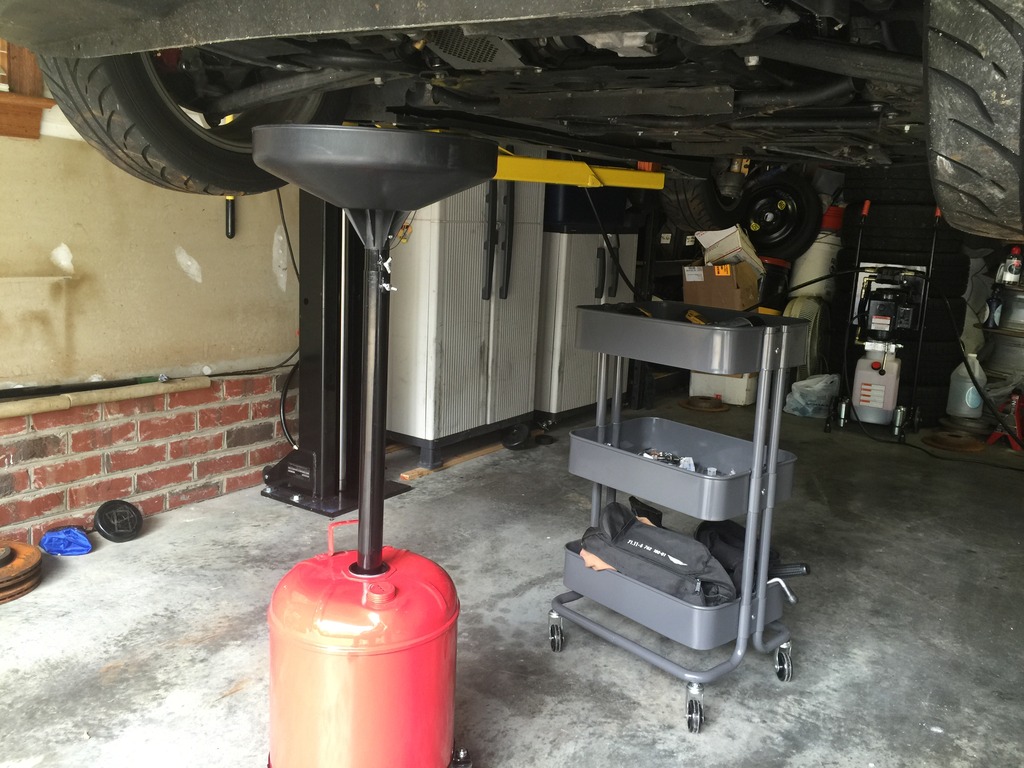 Progress for the day: Pulled bumper, wheels, axles, wheel liners, x-brace, intercooler, header, airbox. Started disconnecting harness. Drained fluids.

Took new header to my exhaust shop to have second O2 bung added. They called an hour later to tell me it's done, will get it tomorrow. Then will probably ship to Jet-Hot for Extreme 2500 white coating.
Beer time. Carolina Brewing Summer Ale. Yum.