After fiddling with NCS Expert some more, I drove another 40 miles on Monday.
What do you NOT see?
Warning lights. 
 Win.
(of course, the airbag light has tape covering it… shhhhh)
On Sunday, I eventually swapped in the steering angle sensor from the GP, and reset all the DSC sensors individually with AutoEnginuity. This seems to have cured my DSC faults. Perhaps just resetting the sensors would have done the trick, but I've read some places that the steering sensor gets initialized to the car / VIN…
However, I did discover that my Xenons and Cruise weren't quite working right. And my convertible "windows down" button wasn't putting all four windows down, only the rears.
<WARNING GEEKY ARCANE CODING STUFF>
On Sunday morning, first thing, I started working on coding with NCS Expert. It had been a year since I had touched it and had to re-learn how to do it. I accidentally did a "process car" using the GP's VIN and a blank .MAN file. As a few folks may know, doing this resets ALL modules on the car to the factory defaults, based on the options installed on the car. In this case, the options installed on the GP at the factory. So, it thought it had too many airbags, no convertible top, halogen headlights, etc. Completely negating the value of me keeping the original BC1 from the cabrio. Oops.
After fighting with NCS Expert, attempting to get everything sorted back out on the BC1 and ABG modules, I decided to attempt to recode them back to the original cabrio defaults. I unplugged the GP EWS (immobilizer) module, and plugged in the one from the cabrio. Left everything else the same. Then ran NCS Expert and fetched the VIN and options list from the EWS, and did a "process ECU" using blank .MAN file on the BC1 and ABG modules. Tested lights and convertible window switch – ALL GOOD. Checked airbag settings. Now it's looking for the right combination of bags. Then swapped back to the GP EWS, tested again, and recoded my desired options (e.g. comfort opening / closing with the key). Done.
</GEEKINESS>
Also got this in the mail: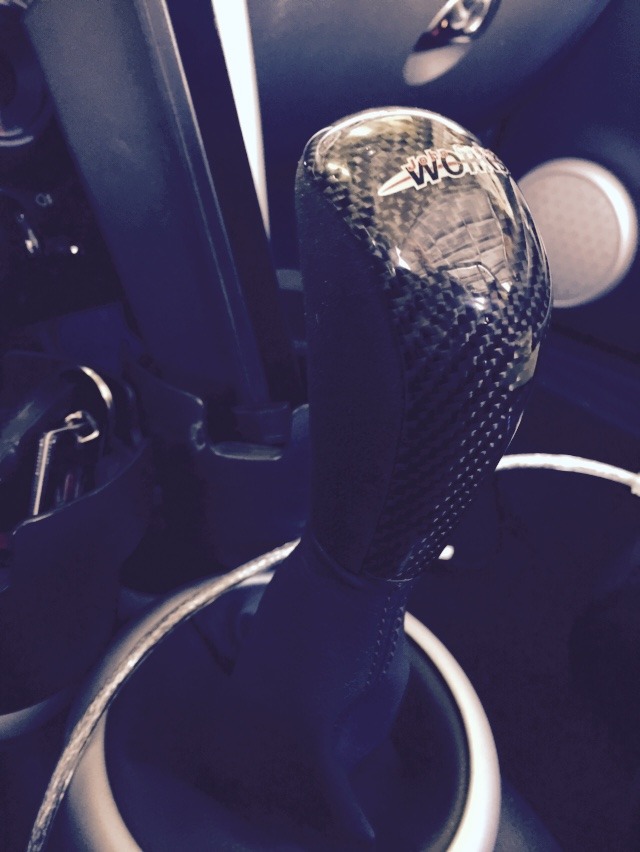 Matches my e-brake handle and steering wheel. Awesome.
After I stopped laughing, I realized I might be the only MINI driver in the world who actually needs that. So, installed.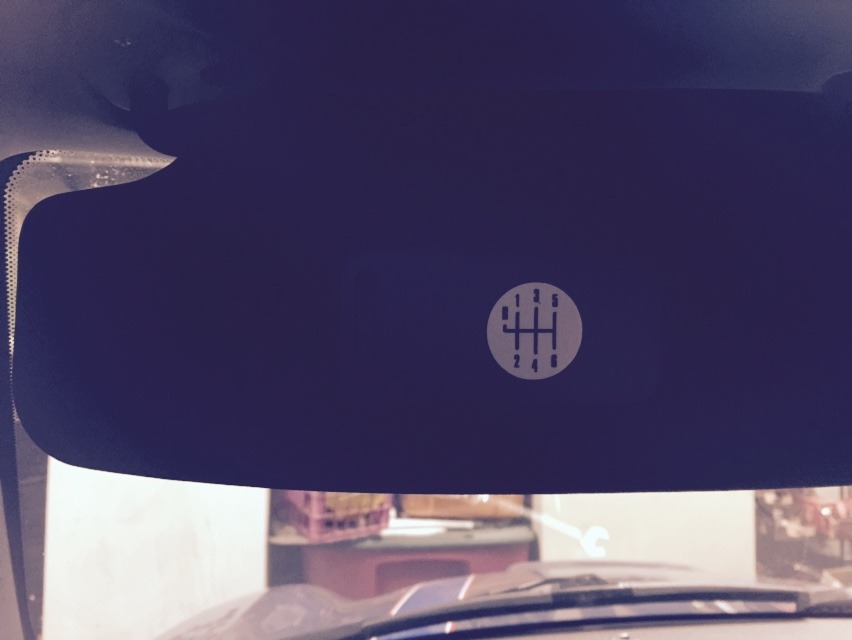 As long as I don't ever need to find "R" on the racetrack, I'm good.