Great first weekend at the track for Locutus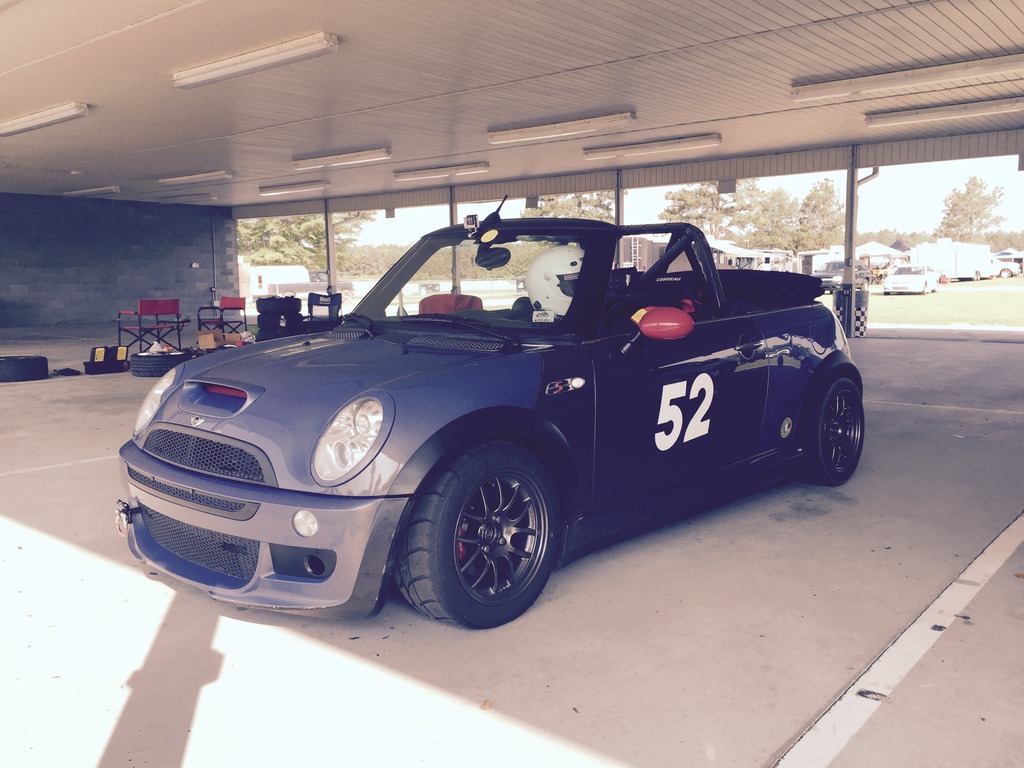 This weekend was mostly about me getting my confidence back (after the tire wall incident on the same track, last time out), and getting acclimated to the car with all the big changes (manual transmission! LSD brakes tires).
Other than breaking my flex joint (again), the car performed spectacularly. Took me a day or so to get into the groove, then made a lot of progress on the second day. Not sure why the flex joint broke… I have very little engine movement with the excellent VT mounts. But it gives me an excuse to upgrade to the RMW race header, when I install the stroker. Luckily, it really didn't impact the drivability of the car on track. Just makes it sound like a race car, and makes the tunnel hot.
I need a LOT of work on my shifting (heel/toe rev matching, downshifts while braking hard). Biggest weakness right now. But that's not the car's fault. I was hoping the work I did on that in them mountains last month would be sufficient prep. It wasn't.
I really love what the car can do on sticky tires. The 15″ NT01/6UL setup is da bomb. I ordered a "spare" set of NT01's so I'll have some on hand whenever I need them. I should be able to get 6-8 more days out of the current set, from the looks of it.
Here's my last (and best) lap of the weekend. Working on chasing down a new Stingray.
I DO need more LSD, and I DO need more brake cooling. I was pushing the limits of the factory LSD with current power levels. Forget about it with the stroker. Was going to put a Cusco LSD in, but availability issues pushed me over the edge to order the OS Giken from Jan. Brakes did well until the last session where I was building speed and braking later, overheated them the last couple of laps, even with the BBK. Ordered brake duct brackets from Jan and will modify to fit my setup. XP10/XP8 combo performed well, I need to get smoother with my pedal action.
This was my first Tar Heel Sports Car Club event (third try was the charm). I was VERY impressed by their level of organization, quality of classroom and in-car instruction, and friendliness of the people. A very diverse and inclusive group, which made for big fun all weekend. Vintage cars, Lemons cars, M3s, Corvettes, Mustangs, Porsches, Race cars, street cars… there was some of everything. I was the ONLY Mini, out of probably 70 cars. Lots of curious folks stopped by to talk. That was fun. This club does lots of autocross and rallycross events in central and eastern NC, as well as two weekends at VIR and one weekend at CMP each year. I need to make it out to an autocross soon. Will be at the VIR full course event in September, with MOAR POWER and MOAR BRAKING.
Any track event you can drive home from, is a good one, in my book.