I've been tragically delinquent in posting this year. Been crazy busy. I'm going to post some stuff to catch up. Really.
In the meantime, here's Blimey's latest mod – GP Rear Trim, and matching exhaust tips: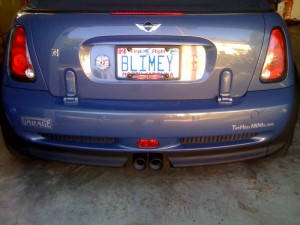 The GP trim is a subtle change, but it really transforms the rear of the car. I like it MUCH better than the rear aero bumper. It installs as three pieces – the rear pieces of the arches which hold the reflectors/sidelights are replaced also. Quick install – a few screws and snaps. Done. Thanks to Joaquin for turning me on to this mod.
Only issue was that once I put it on, the larger exhaust cutout made my blacked-out beer cans look even more anemic. Needed something bigger to fill the void. And wanted to stick with my one-ball exhaust. And wanted to stick with black-out.
The tips are the 1st gen "Sport" OEM accessory tips. I'm not a big fan of those tips when they're shiny (sorry, Rudy), but with some textured powder coat to match the trim, they rock. Thanks to Tom Davis at Carolina Custom Powder Coat in Cary for doing a fantastic job on them.