The combination of continuous 100 degree days for the last two months, and the fact that using Prima Hydro every wash has made my first Prima Epic treatment last FOREVER… has lured me into complacency… and I've delayed my big detail for months…
Well, I was just gonna clean the interior and wash today – but once I got started, I couldn't stop. I moved into the garage (NOT air conditioned, but shady) and did my wash in there. Then I found a spot on one painted interior door panel that was scuffed, so I got out the Porter Cable random orbital polisher (PC), and one thing let to another, and I ended up doing:
Full interior vacuum including all nooks and crannies
Shake out cocomats
Clean/condition leather with Griot's Leathercare
Prima Nero all interior plastic/vinyl
Prima Swirl/PC on interior door panel blemish
Prima Amigo (by hand) painted dash and interior door panels
Prima Epic (by hand) painted dash and door panels
Prima Clarity all internal glass/chrome/gauges
Vacuum ragtop & cabrio wind deflector
Vacuum bugs outta radiator and intercooler
303 fabric treatment on wind deflector (yuck – it was NASTY)
Prima Mystique wash including wheel detail, door and tailgate crevices
Clay entire car
Swirl/PC tailgate & rear bumper (the only really swirly part of the car)
Amigo/PC the whole car
Epic – around trim and tight spots with Paradise Skinny – rest with PC
Black Wow trim
Meguiar's Endurance Gel on tires
Wipe down trim and tires with about 1000 paper towels
Clarity exterior glass
6 hours later, it's 99 degrees, I've sweated about 2 gallons, I've drank at least a gallon of water, I've been through 3 tshirts, and a whole pile of DP towels… but it's done…
Oh yeah – and Detailer's Paradise / Prima ROCKS… and I'm not a shill, though I'm always ready to compromise my ethics if the right bribe comes along. You listening, Heather?

Though why should she pay for something that she can get for free…
All those products are awesome…
Amigo is amazing stuff. First time I had really used it with the PC on the full car (with white pad). Even before the Epic the car practically GLOWED from the Amigo buff…
Here are the results the morning after – Epic really does it's thing when you let it cure overnight.
The required full frontal – just to prove it IS my car…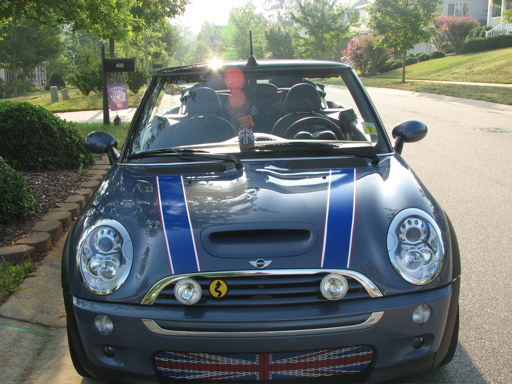 I think that I shall never see a car as lovely as a tree…
The boot was the swirly part – see any swirls now?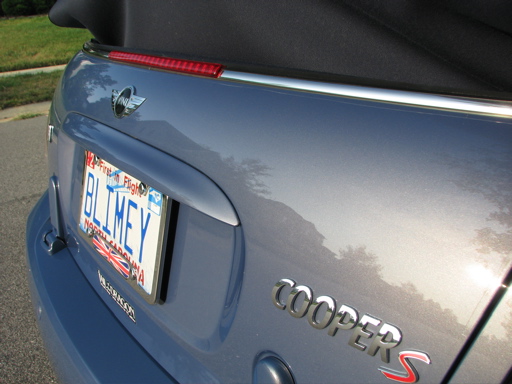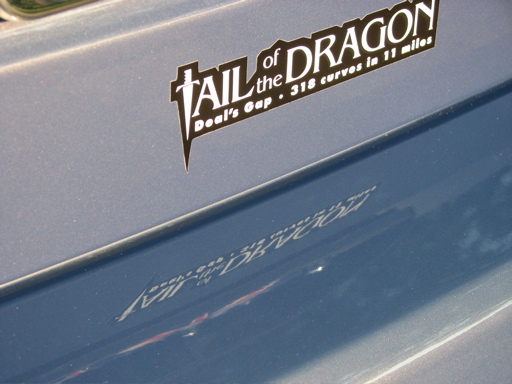 Sides are nice and wet and shiny…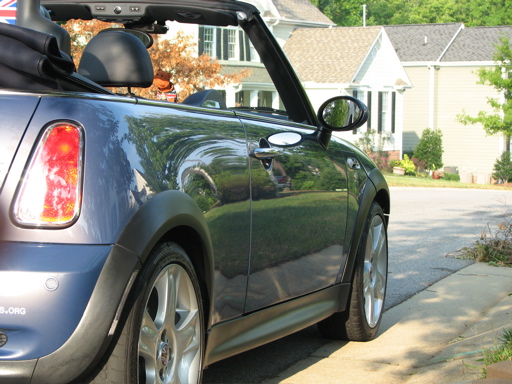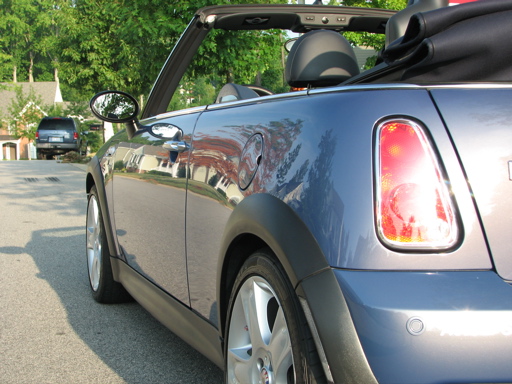 Interior is nice and clean and conditioned…
And here's the money shot – Is it a door, or a mirror? Note the reflections in the a-panel, in the reflection of the door… money…