I've been struggling lately.
I love my MINI. I love the color of my MINI. But Cool Blue is just kinda weird. It doesn't lend itself to some treatments that I think look AWESOME on other colors. Example: The Aero Grilles. I just don't think they'll look good on my car. I love them on everybody else's car. But there's just something "whimsical" about the combination of my color and the whole Union Jack theme that I have going. And it needs a little chrome to work, and I don't think it works as well with some of the things that look cool on other cars – like aero kits and aero grilles.
Recently I tried out one of Matt Cook's (ImagoX) stainless steel grilles. I really like the way these look on every other car where I've seen them installed. But they aren't the right look for Blimey…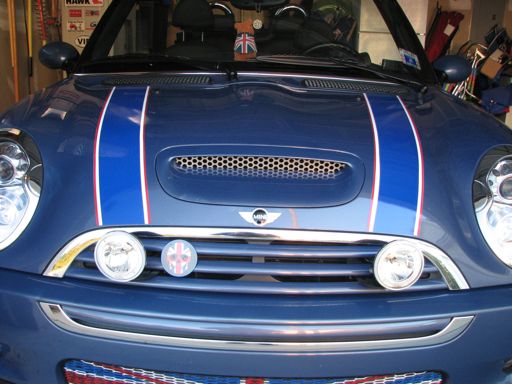 See? Doesn't work. Wouldn't work if it were a different color, either. I was discussing this with Matt, and he remarked, "Yeah, you have a lot going on on the front of your car."
No doubt. Trademark Union Jack lower grille. Which is not going away. Ever. Driving lights. Grille badge. Chrome. Custom stripes. And Cool Blue, which is NOT a basic color…
It's too busy. Damn it. I hate to say it, but it's true. But I don't want to give up anything… so now what?
Well, while I don't think the aero grille is the right look, I DO think maybe the front of the car could do with less Cool Blue… so I took another page out of Matt's playbook, and decided to try something…
I got a roll of Trimbrite Blackout Tape. This stuff is 1-3/8″ wide and 20′ long for about four bucks. It's a nice matte black vinyl, that matches the black plastic trim of the MINI well. And it's the PERFECT width for blacking out the slatted grille. I got mine from AutoBarn, but some folks have reported finding it at their local Pep Boys.
Removed the lights and grille badge holder, cleaned everything up, got an X-acto knife and a bamboo barbecue skewer and a pair of scissors, and 30 minutes later…
I like this MUCH better. It makes the grille area better match the open scoop, and it makes the UJ lower grille really "pop". While it doesn't look like it in this pic, the color of the vinyl is a good match for the trim/splitter below the UJ grille. Especially after I re-treat it with Black Wow.
I applied this "dry" – others have said it's easier to do "wet" (using a spray of very diluted soap underneath, and a squeegee), but I had no problems – the width is perfect, and it's easy to stretch and massage it into place to match the curve of the slats if you take your time. I use a bamboo grill skewer to work the vinyl into the corners at the end of the slats (careful – don't poke a hole in it), then use a VERY sharp X-acto knife to carefully trim it in place.
Want to see how it looks with the lights re-installed? Well, read my next post…