While I had made a few mods to the look of the engine bay (wires, intake hose, scoop decal, painted a few accents, air diverter plate, etc.), I really wanted to do something to make it different, and make it POP.
Here's the result…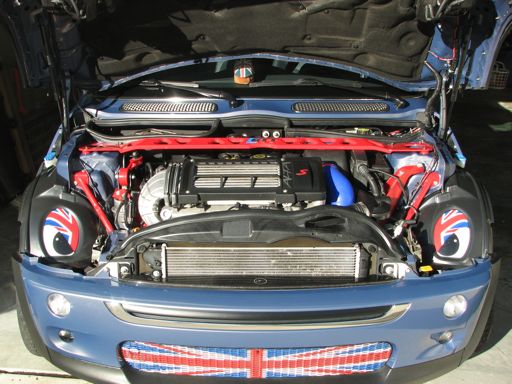 To match the GT Tuning Strut Brace, I painted the cabrio diagonal braces, the engine mount, the transmission mount… and added a VIP engine damper, which I also painted… so all the "structural" stuff is red. Originally, I had planned to powder coat all of these to match the strut brace… but the engine damper has rubber bushings, and instead of dealing with having those pressed out and back in, I went hunting for a painting option. I settled on Duplicolor caliper paint – which is a good color match to the brace, is easy to work with, is durable, is easy to touch up as needed, and flows out to make a finish that looks very much like powder coat. I painted the brackets for the VIP damper black, because the yellow zinc plating was UGLY.
When reinstalling the strut brace, I found that the mounting plate for the VIP damper is just a LITTLE too tall and hit the bottom of the strutbrace – so I had to grind it down about 3/16″ and touch it up.
Here are some close-ups…
The color isn't nearly as "orange" as it appears in the photos… sunlight plays tricks that way… just a nice, bright red.
Really starting to look more like an Autobot now… 😆
I still have a few things I want to do, but it's getting close to being complete… at least for now…