We had a GREAT time at MINIs on the Dragon! It was AWESOME. Like living in a town full of cool people, almost all of whom drive MINIs – probably about 500 MINIs there for the weekend. Surreal. And Very, Very Kewl.
You know you've got it bad when (a) you have Deal's Gap and Tabcat Bridge programmed in your GPS, and (b) you already have the countdown timer for MOTD6 running on your computer dashboard. And it says almost 360 days.
Some photos to tell the story…
With the whole family, on the way back down the Dragon after the Dragon Parade. I know the top is up – the boys were cold and asked to put it up – and asked that we go faster on the way back down. I did both. Notice the perfect line as I effortlessly carve this off-camber corner going about 90 (give or take 50%)… Professional at work here, don't try this at home. 😉

Super cool driving in the rain photo – this was me and Jack getting in one last Dragon run on Friday after a downpour. I like driving the Dragon wet – no motorcycles to worry about and not many cars… and Blimey handles the wet as well as the dry… and wet cornering is more interesting…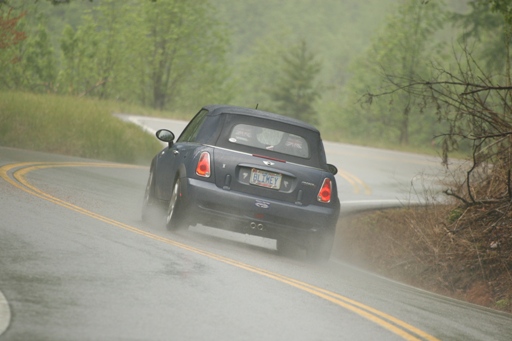 Blimey and the boys at the Smokies overlook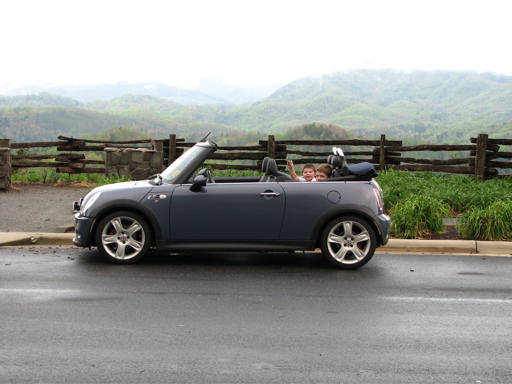 Our great cabin near Tuskeegee – really nice and let me drive the Hellbender a lot – but next year we'll be at Fontana!
The Dragon Parade line-up. Only a tiny fraction of the cars can be seen here. Almost 200 MINIs drove in the "parade" – which is really just a mass drive up the Dragon, at about the speed limit…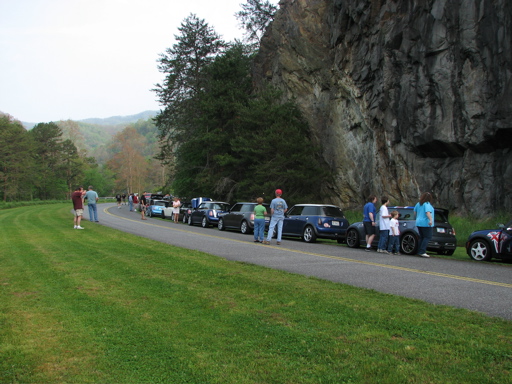 The boys LOVED riding the Dragon! This is the same parking lot where we all staged for Midnight on the Dragon for about 15 minutes before heading up. The residents of the Motorcycle Resort thought they were being invaded or something when we all rolled up and completely filled the lot at 11:45PM. Particularly one inebriated Canadian biker that came over and chatted me up. 🙂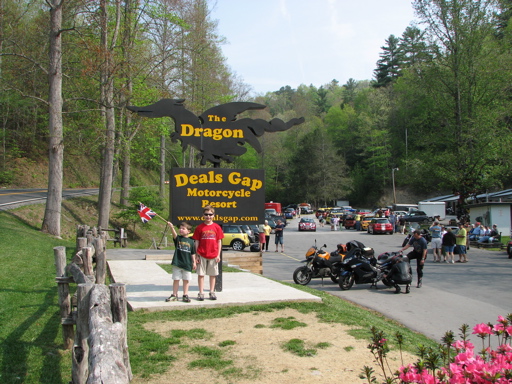 Boddington the Bulldog was there to protect me from would-be car thieves and drunken Canadians…

Mike Syfritt's (DragonFlyer) truck might be my favorite Mini…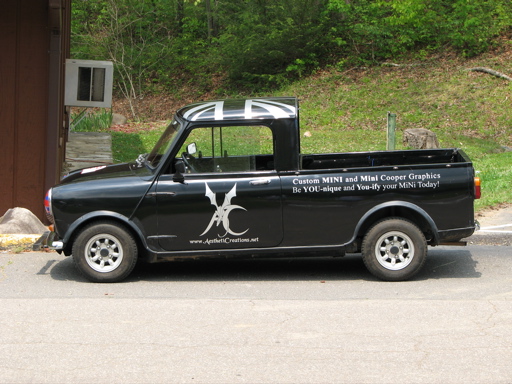 Got to see some other "famous" MINIs:
Tori's (The Future Queen of Nebraska) Jenna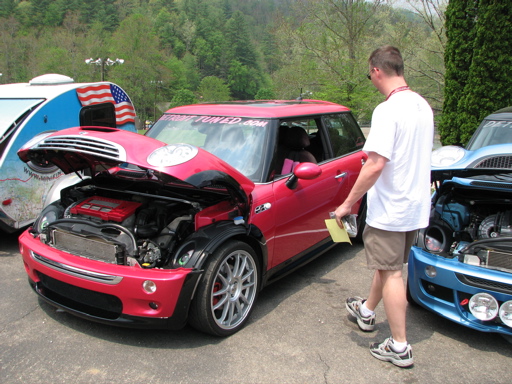 Emily's (StoopidGirl) Disco Ball Pink MINI
The mighty Sprog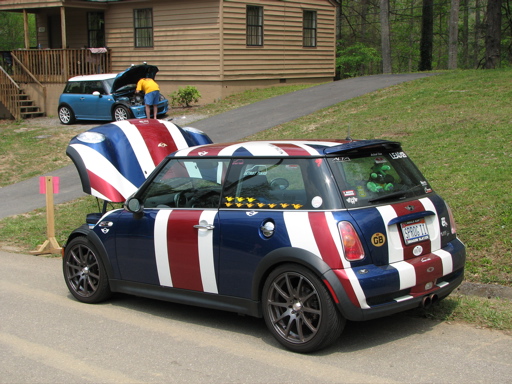 Jason's (Xiek) Betty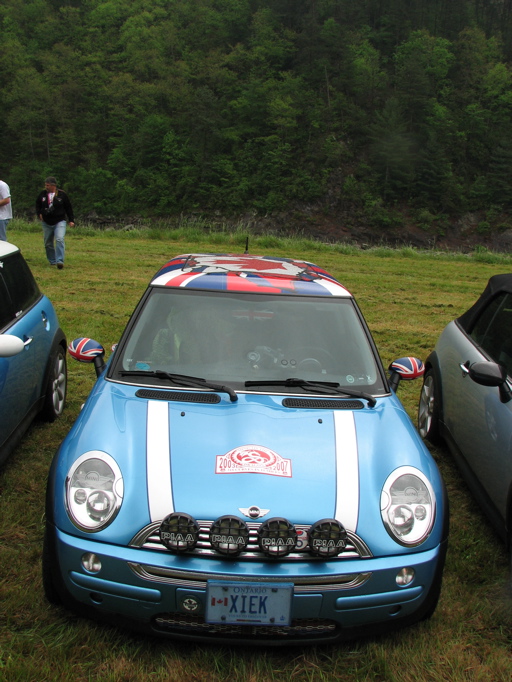 Matt's (ImagoX) Nano
I got to meet OctaneGuy and see him at work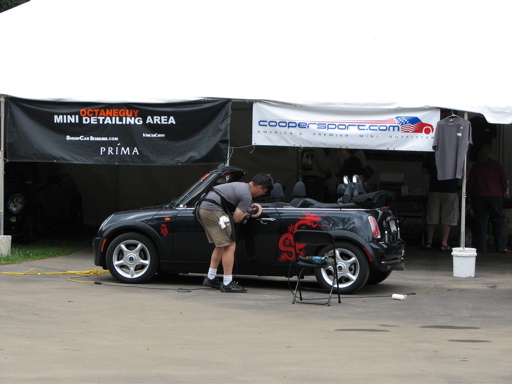 Kara (Kamofrogg) and Pam (Pamalalala) did a great job of organizing Little Dragons activities for the kids. And Mark (Twister) brought some little dragons of his own to give away!

LOTS of MINIs (and a Mini or two) showed up for the panoramic photo – the rain let up just in time!
The Drive-In at the Dragon was a great success! Over $2000 raised for Camp Carefree!

My family took a day trip to the "alpine" village of Helen, Georgia and had some very good German food.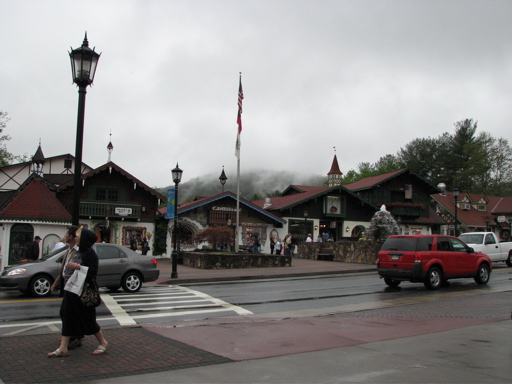 I saw MINIclo!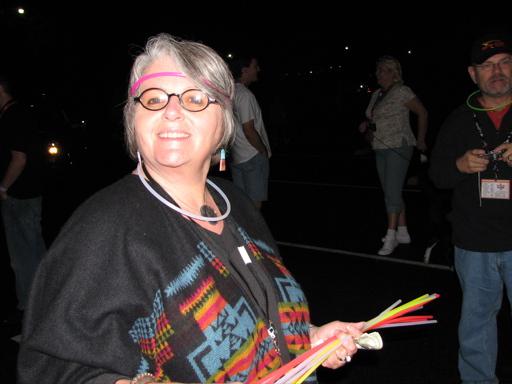 And Midnight on the Dragon was a rush I'll never forget! Like living in a video game! Between 75 and 100 cars drove it this year. This 15 second exposure I shot at Tabcat Bridge is my favorite. I have a poster print of it hanging in my office now.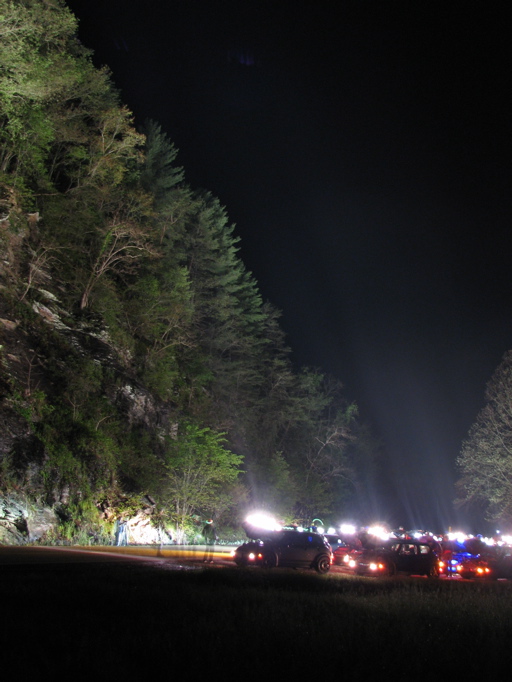 The whole family is in for next year! And I hope to be able to spend a LOT more time with my new friends from Tarheel MINIs!