So… after I installed my custom Redline shift & brake boots, and my polished UJ brake handle, something was still "lacking":
Yeah, the shift knob.
For a LONG time, my plan has been to get a custom engraved Whalen stainless steel knob. These things are da bomb. I was thinking one engraved with a Union Jack, and "Blimey" in the same font that I used for the door sills, in polished finish. That would tie my whole UJ theme together at primary man/machine interface… Similar to this one:
Well, there's one catch – I have an automatic. Technically, even though the auto has a "lock" button on the stock knob, you don't *really* need it… the tranny is electronically controlled, so it won't let you slam it in reverse while going forward, etc. But the shaft of the auto shifter is machined a little differently than the manual one – same diameter, but different length from the "shoulder" to the end, and the slot in the end is machined 90 degrees differently…
Several folks have installed Whalen knobs on autos – it works, though Doug's fantastic locking mechanism doesn't really work as designed due to the length difference. Doug was originally going to make me a knob, then decided to stop *knowingly* selling knobs for autos because (1) he's a perfectionist and didn't like the fact that the mechanism wasn't quite right, and (2) he was concerned about defeating the stock button functionality and the liability that might create. I certainly can't fault him for either of those concerns. But that left me with no solution for my custom shift knob…
Recently, I had come across some badges / decals at MotorSwag.com that just "fit" Blimey's theme and character somehow:
I put a one of these on my badge holder and my boot, and love'em. So then I got this evil, rebellious, (great? stupid? insane?) idea, and ended up with this: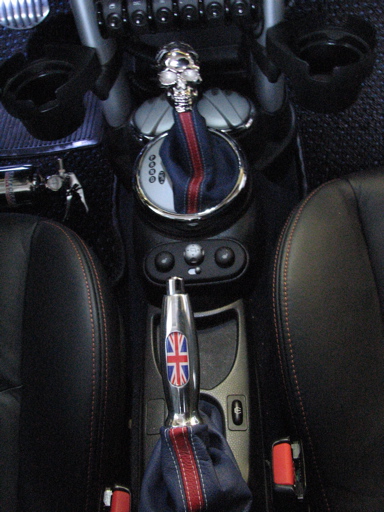 My wife HATES it. Me and my sons LOVE it. Three of us and one of her. What does that mean? It means I put the stock knob back on when she drives or rides the MINI. 😉
Anyhoo… this knob was CHEAP (about $15) – so that's more money for other mods. It wasn't a good fit for the stock lever, but I found that if I drilled it out a tiny bit, I could epoxy a 2″ length of 1/2″ hard copper pipe in there and it's a PERFECT slip fit over the stock shift lever. Wrap a little chrome tape around the exposed end of the pipe and it's like it was meant to be…
I got it from thehotrodgirl.com. It's the nicest looking skull knob I've found. While they say it's metal, it isn't; it's molded resin, with a chrome finish. But that makes it easier to drill out for the 1/2″ copper pipe mod… And it's cheap enough that if it falls apart, I'll buy 10 more.
So now I'm thinking of more UJ skull motif stuff… it's juvenile, but it's COOL. Bwahahahaha!